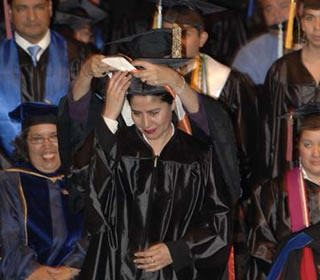 May 2006 La Despedida ceremony
Registration deadline for La Despedida is April 11
By James Benavides
Public Affairs Specialist
(April 10, 2008)--The deadline to register for the 2008 La Despedida graduation ceremony is 5 p.m., Friday, April 11. Mariachi music, indigenous blessings and inspiring oratory are only part of UTSA's La Despedida tradition. In one of the key elements of "The Farewell," officiators read from personal letters prepared by graduates, thanking their families, professors, mentors and friends.
---
Today's headlines
Article tools
---
The themes and sentiments of La Despedida resonate with UTSA's Hispanic population, but students of any ethnicity can participate. The event's logo, designed by UTSA alumnus Roberto Sifuentes, depicts a diploma framed by a triangle with the sayings, "Para Mi Familia (for my family), Para Mi Raza (for my race), Para Mi Comunidad (for my community)."
UTSA's La Despedida began 13 years ago, as guests outnumbered seating at the university's general commencement ceremonies. Graduates often could not share their accomplishment with their entire families. The smaller, optional ceremony, a tradition in Hispanic communities, created the opportunity for graduates to gather their friends and families to celebrate accomplishments, and then share a meal.
The 2008 La Despedida ceremony is 8:30 p.m.-midnight, Saturday, May 10 at the Buena Vista Theater, UTSA Downtown Campus. The event features a ceremony followed by a family meal. A mandatory participant meeting is 6 p.m., Thursday, May 1 at the Buena Vista Theater. To register, e-mail Michelle Montanio. UTSA Downtown Campus assistant director of student activities.