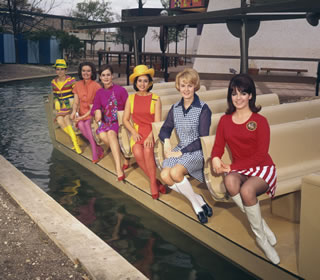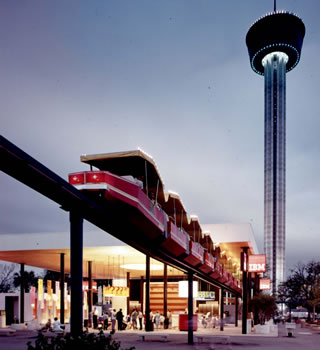 Top photo: HemisFair guides on the River Walk extension
Second photo: HemisFair logo
Third photo: Texas exhibition building, now ITC, under construction
Fourth photo: HemisFair monorail
Bottom photo: Voladores (fliers), who performed acrobatics from
a tall pole
Institute of Texan Cultures opens nostalgic HemisFair 1968 exhibit
By James Benavides
Public Affairs Specialist
(March 24, 2008)--Along with the NCAA Final Four festivities, San Antonio will celebrate the 40th Anniversary of HemisFair 1968 on Sunday, April 6 at HemisFair Park in downtown San Antonio.
Festivities begin 40 years to the day after the opening of the world's fair that many say began San Antonio's modern era. The City of San Antonio, the HemisFair executive committee and UTSA's Institute of Texan Cultures invite the San Antonio community to attend a commemorative ceremony at 12:30 p.m. April 6 at the Big Dance stage at HemisFair Plaza on South Alamo Street.
---
Today's headlines
Article tools
---
Tom Frost, UTSA Development Board member and chairman of Frost Bank, and a member of the HemisFair executive committee, will emcee the event, welcoming dignitaries including City Councilwoman Mary Alice Cisneros, Bexar County Judge Nelson Wolff and City Manager Sheryl Scully. San Antonio Spurs owner Peter Holt will speak on the changes, such as the establishment of the San Antonio Spurs, that came out of HemisFair.
A video from Say Sí will recapture memories and nostalgia from the 1968 event. The Jim Cullum Jazz Band and Folklóric Ballet Mexicanidades will provide entertainment. Immediately following the ceremony, dance troupe Urban 15 will lead a procession down Old Goliad Street past the Tower of the Americas to UTSA's Institute of Texan Cultures. At ITC, the Lion Dance Association of San Antonio and numerous Texas Folklife Festival participants in their cultural dress will welcome guests.
At 2:15 p.m. April 6 at the foot of the bridge leading to UTSA's Institute of Texan Cultures, UTSA President Ricardo Romo will host a ribbon cutting ceremony, honoring the museum's legacy as an original tenant of HemisFair Park and opening the museum's new exhibit, "HemisFair 1968: San Antonio's Introduction to the World."
Through the generosity of community partners, admission to the museum will be free April 6. A new HemisFair dome show will premiere at the museum at 2:45 p.m. Festivities begin a yearlong exhibit at the museum. Regular museum hours are 10 a.m.-5 p.m., Tuesday-Saturday; noon-5 p.m. Sunday, closed Monday. Admission is $7 for adults; $4 for children, seniors and military with I.D., and free with UTSACard. For more information, call (210) 458-2330 or visit the Institute of Texan Cultures Web site.
UTSA's Institute of Texan Cultures is San Antonio's cultural experience museum. Established as the Texas State Exhibits Building for HemisFair 1968, it later was designated as a campus of The University of Texas at San Antonio. The museum tells the stories of Texas' diverse citizens and multicultural heritage. Home to the Texas Folklife Festival, Asian Festival and other cultural events, the ITC seeks to entertain, inform and inspire those who seek a greater understanding of the influence of multiculturalism in the Lone Star State.
------------------------------
Many people helped make HemisFair 1968 a reality, and a number of them will be honored at the Sunday, April 6 ceremony. Guests will include:
Bill Sinkin, vice chairman of the board, HemisFair 1968
Tom Frost Jr., vice president of international participation, HemisFair 1968
Flo Crichton, executive committee member, HemisFair 1968
Jessica Catto, ex offficio member, HemisFair 1968 Executive Committee
Mary Jane Houston, ex officio member, HemisFair 1968 Executive Committee
David Straus, ex officio member, HemisFair 1968 Executive Committee
Red McCombs, past member, HemisFair 1968 Executive Committee
John Daniels, past member, HemisFair 1968 Executive Committee
Lila Cockerell, 1968 San Antonio City Councilwoman
Winston Martin, 1968 director, San Antonio Development Corp.
Cosmo Guido, contractors representative, HemisFair 1968
Carlos Freymann, director, Visitor and Exhibitor Relations Department, San Antonio Fair Inc.
Jack Trawick, comptroller, San Antonio Fair Inc.
Rosemary Kowalski, caterer, HemisFair 1968