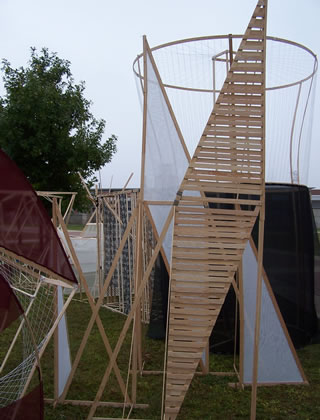 "PASSage" 2007 projects
Walk through UTSA architecture student projects April 24
By James Benavides
Public Affairs Specialist
(April 22, 2008)--The semester projects of UTSA architecture students will be presented from 9 a.m. to noon, Thursday, April 24 at Bill Miller Plaza on the UTSA Downtown Campus. The exhibition of work by Design I students, "PASSage," gives students, faculty members and guests a chance to walk through structures that students designed, which is considered a rite of passage for aspiring architects.
---
Today's headlines
Article tools
---
The premise of the exhibition is to allow participants to experience a sensation or emotion by passing through a structure. "Bliss," "Disdain" and "Solemnity" are a few examples of the 17 pieces to be presented.
"Students have no idea, as yet, that the first time you experience one of your own designs in full scale, there will be a few surprises, both beautiful and not so beautiful," said Stephen Temple, UTSA associate professor of architecture.
A rarity in architecture schools so early in the curriculum, the "PASSage" project is a full-scale, hands-on, design-build assignment. The project allows students to study architectural themes of space making, symmetry and asymmetry, colors, patterns, curves and angles, materials, and the subtle affects they can have on people.
Most students involved are freshmen in their first semester of the architectural design program. Four-person teams spent the last three weeks developing ideas through conceptualizing, researching, drawing and constructing small-scale models. For the final build, students were constrained to a palette of eight-foot wood lathe strips for a structural frame, a single binding material such as leather lacing, and a single sheer fabric of the team's choice.
The final products are delivered in many colors, shapes and sizes. Fragile wooden frames form spires and mazes, fabric is cut and shaped into canopies or wall panels, and lacing is painstakingly fashioned into latticework, sometimes as structural necessity and sometimes as pure frivolity.
"Each student not only comes away from the project a better team player, but also realizing the complexities involved in leading a design project all the way from idea and sketch, to the reality of its construction, detail and finally into the richness of human experience," said Temple.
For more information or to arrange a walk-through, call Stephen Temple at (210) 458-3032. If there is inclement weather, the exhibition will be April 29.