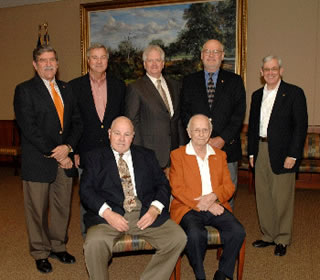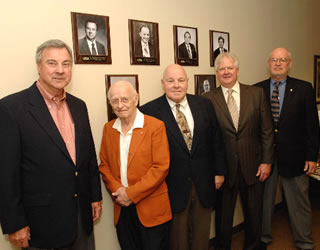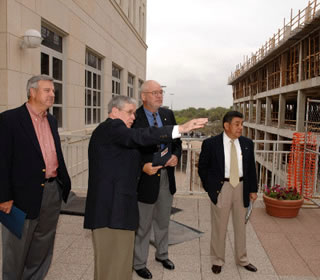 Top photo: (back row from left) UTSA President Ricardo Romo,
Charles Franklin, Jere Pederson, Dan Williams, VPBA Kerry
Kennedy and (front row) Gary Hammon and Everitt Mahon
Middle photo: (from left) Former VPBAs Franklin, Mahon, Hammon,
Pederson and Williams
Bottom photo: A construction tour at the new Engineering Building
(Photos by Mark McClendon)
UTSA business affairs VPs go down memory lane
By Marianne McBride Lewis
Director of Public Affairs
(April 4, 2008)--The weather may have been cloudy in San Antonio on a recent Friday, but there was nothing but sunshine at UTSA when five of the previous six vice presidents for business affairs joined President Ricardo Romo and current VPBA Kerry Kennedy for a reunion, 1604 Campus tour and trip down memory lane.
---
Today's headlines
Article tools
---
Charles Franklin and Everitt Mahon, the university's first two chief financial officers visited with Gary Hammon, Jere Pederson and Dan Williams. David Larson, UTSA's VPBA from 1995 to 2004, was unable to attend.
Mahon said he hadn't been back on campus for at least 20 years and really enjoyed the campus tour. "I didn't know where I was half the time," said Mahon. "When I was at UT-Austin I thought it was big, but this is bigger."
At a luncheon, the group reminisced about their tenures, talked about their families and shared UTSA stories that Kennedy joking quipped "shouldn't really be retold until we are all dead."
"We often take for granted what those that preceded us have done in laying a foundation for our current and future opportunities," said Kennedy. "I couldn't be more proud of those that served prior to me. Today, we have done our best to show UTSA's appreciation and respect for their legacy -- one that benefits us all."
To gain perspective on the rich timeline represented by the group, when Franklin was UTSA's first VPBA in 1971, the U.S. median annual household income was $9,028, the cost of a postage stamp was 6 cents, and the UT System Board of Regents approved plans to build the first six buildings at UTSA for $33.5 million.
Today, during Kennedy's tenure, median household income is $48,201, a "forever" stamp costs 41 cents and UTSA is constructing one engineering building on the 1604 Campus for $82.5 million.
Each guest left with a book of photos created especially for the reunion by executive assistant Sue McManus and administrative services officer Julie Olson, both from the Office of the Vice President for Business Affairs.
Working with UTSA's Archive and Special Collections and the Institute of Texan Cultures Library, McManus and Olson gathered photos of UTSA events from the signing of the legislation creating the university to current pictures of the campuses. Their research resulted in a 68-page memory book, "UTSA, A Historical Journey 1969 to 2008."
-------------------------------
UTSA vice presidents for business affairs
Name

Start Date

End Date

President

G. Charles Franklin

December 1, 1971

November 30, 1972

Arleigh B. Templeton

Everitt M. Mahon

January 15, 1973

January 14, 1979

Peter T. Flawn

Gary L. Hammon

January 15, 1979

October 12, 1984

James W. Wagener

E. J. "Jere" Pederson

November 1, 1984

April 30, 1986

James W. Wagener

M. Dan Williams

May 7, 1986

August 31, 1995

Samuel A. Kirkpatrick

David R. Larson

December 15, 1995

June 11, 2004

Samuel A. Kirkpatrick

Ricardo Romo

Kerry L. Kennedy

August 4, 2004
Ricardo Romo