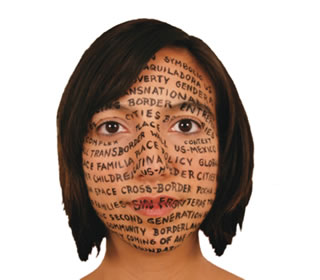 Photo courtesy of Guillermina Zabala, My Generación; photo concept
created by Laura Varela, Vaago Weiland and Guillermina Zabala
UTSA, Blue Star host 'Latina Voices' panel May 29
By Tim Brownlee
Assistant Director of Public Affairs
(May 27, 2008)--The Blue Star Contemporary Art Center, UTSA Women's Studies Institute and the UTSA Mexico Center will host a panel discussion, "Arte Latina: Latina Voices," at 6:30 p.m., Thursday, May 29 in the Blue Star gallery in Suite 116 at Alamo and Probandt streets. With a reception following at 8:30 p.m., the event is free and open to the public.
---
Today's headlines
Article tools
---
Moderated by Ellen Riojas Clark, UTSA professor of bicultural-bilingual studies, the panel will feature the artists with works in the "Arte Latina: ROAR" exhibit on display at Blue Star through June 8. The well-received show is the first all-women, all-Latina group exhibit in Blue Star's 23-year history.
"The panel discussion will be an opportunity for the artists of our current exhibit to voice their insight into the ideas and complexity of their work," said Roland Mazuca, Blue Star assistant director and education director. "The event is a great occasion for the community to come out and hear more on this amazing group of San Antonio Latina artists."
Panelists will include artists Vanessa R. Centeno, Adriana García, Vanessa García-Briedé, Frances Marie Herrera, Tess Martínez, Irma Carolina Rubio, Elizabeth Rodríguez, Kathy Vargas, Laura Varela, Carla Velíz, Luisa Wheeler, Guillermina Zabala and Rosemary Catacalos, and Arturo Almeida, "Arte Latina: ROAR" curator and UTSA art specialist.
As exhibit curator and panel co-organizer, Almeida chose the title, "Arte Latina: ROAR," because of its strong association with the feminist era as well as the excitement and empowerment connected with the exhibit pieces. The exhibition is underwritten by The Tobin Endowment with support from the Alice Kleberg Reynolds Foundation.
For more information, contact Zinnia Dunis Salcedo, Blue Star Contemporary Art Center, at (210) 227-6960. Gallery hours are noon-6 p.m., Wednesday-Sunday.
------------------------------
Blue Star Contemporary Art Center is a nonprofit, non-collecting contemporary art center dedicated to advancing the growth and understanding of contemporary art, artists and the curatorial process. Through exhibitions and programs, the center provides a forum for visual arts dialogue and development of regional, national and international contemporary art.