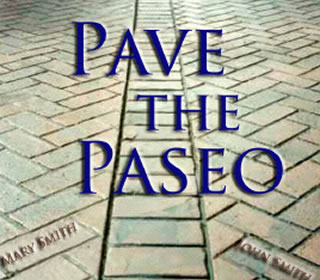 Buy a paseo brick to fund student programs
By Anne Englert
Assistant Director for Student Relations, Office of Alumni Programs
(May 12, 2008)--The UTSA Alumni Association and the University Center have teamed up to give alumni, graduating seniors, faculty, staff and friends of the university the opportunity to leave their marks in a unique way with the UTSA Brick and Bench Campaign.
---
Today's headlines
Article tools
---
Proceeds from brick and bench sales will fund a leadership scholarship and various UC activities including a film series, poetry slams, concerts and comedy shows.
The engraved bricks and dedicated benches will be located on the University Center paseo between the existing University Center and the expansion that will open in August. For a limited time, bricks are being sold for $100 apiece to be installed in time for the start of the 2008-2009 academic year. After that, bricks will be sold for $150.
"The brick program empowers past, present and future members of the UTSA family to mark their educational accomplishment and leave their own legacy," says Jane Findling Burton, director of alumni programs. "Bricks and benches make excellent gifts to celebrate accomplishments, milestones, anniversaries, organization remembrances and memorials."
The new program is an extension of the Buy the Brick program, which ran from 1996 to 2001. Bricks purchased under that program were installed in the UC courtyard.
For more information on purchasing a brick, visit the UTSA Alumni Programs Web site or call (210) 458-4133.