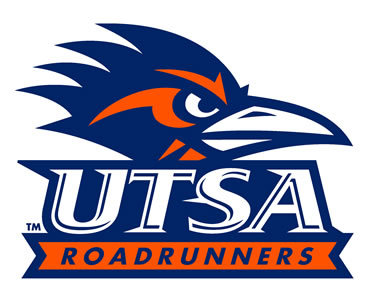 UTSA captures SLC Cup, Men's All-Sports Trophy
By Kyle Stephens
Sports Information Director
(May 29, 2008)--Bolstered by regular season championships by the baseball and men's indoor and outdoor track and field teams, UTSA captured its first Southland Conference Commissioner's Cup and its second Men's All-Sports Trophy in the past three years, the league office announced Tuesday in Frisco, Texas.
---
Today's headlines
Article tools
---
The Roadrunners, who were second in the Commissioner's Cup race each of the past two seasons, scored 138 points to edge Lamar (136.5) by 1.5 points, snapping a three-year winning streak by Sam Houston State, which finished fifth (123.5). Texas State was third in the standings with 135 points, as the top three were separated by a mere three points.
"We are very proud and excited about winning the Commissioner's Cup,? said athletics director Lynn Hickey. "This is a goal of ours that we have talked about out loud for the past several years. To come so close the past two years and to win it this year is a great feeling. It's not an easy award to win, as you can see by how close the final standings were.
"This is a department-wide award. Every sport plays an integral part in building enough points to challenge for the cup. When you win, it shows you have had great success across the board, so the credit goes to our coaches and student-athletes for their hard work and dedication."
Stephen F. Austin placed fourth with 127.5. UT Arlington (121), Southeastern Louisiana (104), McNeese State (98.5), A&M-Corpus Christi (90.5), Northwestern State (79.5), Nicholls State (55.0) and Central Arkansas (50.5) rounded out the standings.
UTSA has finished in the top five in the Commissioner?s Cup standings seven times in the last eight years.
The Roadrunners claimed their second Men's All-Sports Trophy with 67 points, edging Lamar's 65-point total for their first title since 2005-06. It marked the fifth straight and 11th overall top-three finish in the men's standings.
On the women's side, UTSA finished fourth with 71 points. Texas State won its eight-consecutive and 10th overall Women's All-Sports Trophy with 88 points, followed by Stephen F. Austin (75) and Lamar (71.5). The Roadrunners placed in the top five for the fifth consecutive year and 15th time overall.
UTSA won four total SLC championships during the 2007-08 academic year -- baseball regular season, women's basketball tournament and men's indoor and outdoor track and field -- the most in one year since also capturing four in 2003-04 -- men's basketball regular season and tournament and softball regular season and tournament.
The Southland Conference All-Sports Trophies are awarded annually for men's and women's competition based on a 12-point system for all conference sports. Point values are 12, 11, 10, 9, 8, 7, 6, 5, 4, 3, 2 and 1, pending place of finish. Points are awarded regardless of the number of teams competing in the championship. Regular season standings are used for sports that have a conference tournament. The Commissioner's Cup is awarded to the university compiling the highest combined total of men's and women's all-sports points.
------------------------------
2008 Commissioner's Cup Final Standings
UTSA - 138
Lamar - 136.5
Texas State - 135
Stephen F. Austin - 127.5
Sam Houston State - 123.5
UT-Arlington - 121
Southeastern Louisiana - 104
McNeese State - 98.5
A&M-Corpus Christi - 90.5
Northwestern State - 79.5
Nicholls State - 55
Central Arkansas - 50.5
>> Download a document with the complete final standings statistics (PDF format).