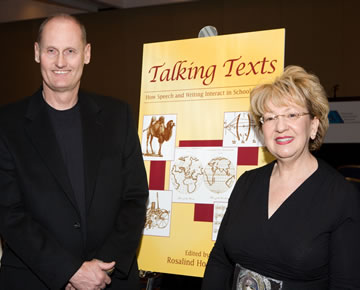 Top photo: Professor Rosalind Horowitz autographs her new book.
Middle photo: COEHD Associate Dean Page Smith (left) and Horowitz
Bottom photo: Horowitz with Professor Janet Donin and Professor Carl
Fredericksen of McGill University, Montreal
UTSA Professor Rosalind Horowitz honored for publication
By Ashley Harris
Public Affairs Specialist
(May 2, 2008)--Rosalind Horowitz, a professor in the UTSA College of Education and Human Development, recently traveled to New York City for the annual American Education Research Association Conference (AERA), where her edited publication, "Talking Texts: How Speech and Writing Interact in School Learning" (Routledge/Taylor and Francis), was honored at a special reception at the Marriott Marquis on Times Square.
---
Today's headlines
Article tools
---
AERA is the largest educational research association in the world and reception attendees included members of AERA, the Special Interest Group on Research in Reading and Literacy as well as COEHD Dean Betty Merchant and Associate Dean Page Smith.
"Talking Texts" features 20 chapters by 30 contributors who are experts in the development of dialogic communication -- inside and outside of school contexts. The book includes research by Horowitz conducted in the San Antonio area and Toronto. It contains theoretical papers and research representing different forms of talk that can be used effectively with text genres to facilitate reading, writing and reasoning. Contributors represent Norway, Hong Kong, China, The Netherlands, Israel, Ireland and Canada.
"'Talking Texts' demonstrates that it isn't enough to just read a book in solitude under a tree or silently at a desk in a school classroom," said Horowitz. "It explores how family and pre-school communications, teacher-led instructional conversations, tutor-tutee talk, peer discussions and professional collaborations about content in domains of knowledge make a difference in learning. That is, the volume shows how each form of speech and text interface and influence how new knowledge is acquired and produced, albeit from engineering and the physical sciences to the arts -- drama, poetry and music."
Horowitz is a professor of discourse and literacy studies. Named as a distinguished alumna of the University of Minnesota, she has served as a visiting scholar to Russia and at the University of Toronto. She recently was appointed to the executive committee of the International Society for Speech, Writing and Context.