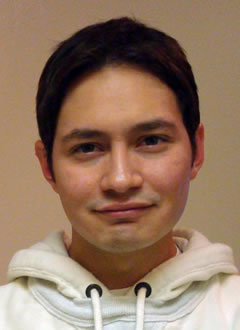 Derrick Ozuna
M.B.A. student receives NSHMBA scholarship
By Wendy Frost
Director of Communications, College of Business
(May 28, 2008)--Derrick Ozuna, a UTSA master of business administration student, is the only San Antonio recipient of a 2007-2008 scholarship presented by the National Society of Hispanic MBAs (NSHMBA).
---
Today's headlines
Article tools
---
A data systems coordinator at UTSA, Ozuna received the $5,000 scholarship for the second straight year. Recipients must maintain a 3.0 G.P.A. and participate in NSHMBA national, regional or chapter activities.
"Receiving this scholarship is important because it lets other students like me know that there is always money out there for higher education opportunities," said Ozuna. "As an Hispanic, first-generation student from a low-income family, I was worried about how to pay for my M.B.A. But a true M.B.A. knows that money will always be there if you concentrate on obtaining it, and money should never be an obstacle to your success."
The NSHMBA scholarship program was established to assist Hispanic M.B.A. students in pursuing their educational dreams. The goal of NSHMBA is to foster Hispanic leadership through graduate management education and professional development.
A San Antonio native, Ozuna graduated from Taft High School in 1998. He has a B.A. degree from Carleton College in Minnesota, where he was an Andrew W. Mellon Undergraduate Fellow. A full-time UTSA employee for five years, he was elected to serve as chairman of the UTSA Staff Council for the 2008-2009 academic year.