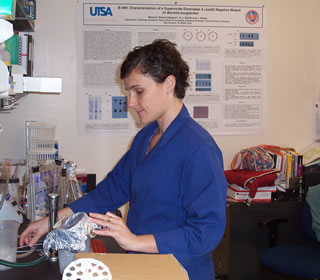 UTSA infectious disease researcher Maria Esteve-Gassent
UTSA continues as leader in graduating Hispanics
By Kris Rodriguez
Public Affairs Specialist
(May 19, 2008)--UTSA ranks No. 4 in the nation in the number of undergraduate degrees awarded to Hispanic students and No. 10 nationally in the number of master's degrees awarded to Hispanics according to the May 2008 edition of The Hispanic Outlook in Higher Education magazine. The magazine surveyed the 2006-2007 academic year of the Top 100 predominantly Hispanic-serving colleges and universities in the United States and Puerto Rico.
---
Today's headlines
Article tools
---
UTSA earned No. 4 national ranking for awarding undergraduate degrees when 1,786 Hispanic students out of a total of 3,656 earned their bachelor's degree, representing 49 percent of the graduating class.
UTSA earned a No. 10 national ranking for awarding master's degrees when 351 Hispanic students out of a total 889 received their degree, representing 39 percent of the class. And for the first time, UTSA made the Top 100 list for graduating Hispanic doctoral candidates.
"We are excited to see the number of Hispanic students earning doctoral degrees at UTSA continue to rise and generate national recognition for our university," said UTSA President Ricardo Romo. "The growth of student enrollment in both our master's and doctoral programs are key components in our mission to become a premier research university."
Each year, The Hispanic Outlook in Higher Education magazine report includes Hispanic student participation across all major fields of study.
For nearly 12 years, the UTSA College of Sciences has led the nation in the number of undergraduate degrees awarded to Hispanic students in the biological sciences; that trend continued with 169 undergraduate degrees awarded to Hispanics in the 2006-2007 academic year. Additionally, the UTSA School of Architecture ranked second in awarding 58 undergraduate degrees and the UTSA College of Business ranked second in awarding 482 undergraduate degrees to Hispanics studying business and marketing.
The UTSA undergraduate rankings include:
1st -- Biological Sciences: 169
2nd -- Architecture: 58
2nd -- Business and marketing: 482
3rd -- Multi/interdisciplinary studies: 256
5th -- English Literature: 79
6th -- Mathematics: 22
6th -- Protective Services: 115
6th -- Psychology: 120
9th -- Hispanic Studies: 11
10th -- Engineering/Engineering Tech: 85
Overall, the University of Texas System dominated the first tier of the Top 100 institutions with UT-Pan American, UT-El Paso, UT-San Antonio and UT-Austin placing among the Top 10.
UTSA is one of the fastest growing higher education institutions in Texas and the second largest of nine academic universities and six health institutions in the UT System. As a multicultural institution of access and excellence, UTSA aims to be a premier public research university providing access to educational excellence and preparing citizen leaders for the global environment.
UTSA serves more than 28,500 students in 64 bachelor's, 44 master's and 20 doctoral degree programs in the colleges of Architecture, Business, Education and Human Development, Engineering, Honors, Liberal and Fine Arts, Public Policy, Sciences and Graduate School. Founded in 1969, UTSA is an intellectual and creative resource center and a socioeconomic development catalyst for Texas and beyond.