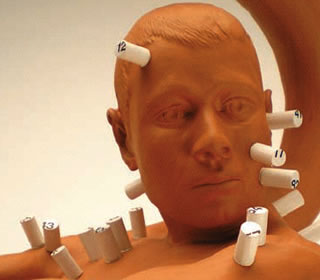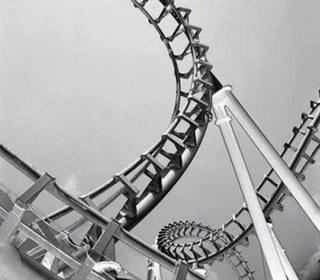 Top: "Balanced Male Vessel with Mapped Surface," ceramic,
dowels and transfers, by Ovidio Giberga
Second: "Pattern in Freefall #5," archival digital print, by
Rebecca Dietz
Third: "Cotton Candy Stand, Fiesta 2007," digital photographic
print, by Kelley Olmedo
Bottom: "Cholo," acrylic on paper on board, by Paul Valadez
UTSA presents 'New Art/Arte Nuevo,' July 2-Aug. 10
By Tim Brownlee
Assistant Director of Public Affairs
(June 30, 2008)--The UTSA Department of Art and Art History will present the juried exhibition, "New Art/Arte Nuevo: San Antonio 2008," from July 2 to Aug. 10 in the Arts Building gallery on the UTSA 1604 Campus. The exhibit is free and open to the public.
---
Today's headlines
Article tools
---
An opening reception, free and open to the public, will be hosted by President Ricardo Romo and Dr. Harriett Romo from 6 to 8 p.m., Wednesday, July 2 at the gallery. Free parking is available in lot 8 during the reception.
The exhibition presents the work of 47 artists who live, work or who have roots/raíces in South and West Texas. The artworks included represent an array of aesthetic interests and themes that range from representational imagery to abstract design and from cultural criticism to sublime expression in works that extend across the full range of traditional and new media.
"This show represents one of many new innovations taking place within the ever-growing UTSA Department of Art and Art History," said Kent Rush, professor and department chair. "This new competition and exhibition represents our desire to reach out in a big way to locate and showcase new artistic talent in the region as well as create an awareness about our evolving and dynamic art program in the hopes of inspiring and drawing in future students."
"I would like to thank Benito Huerta and Kathy Vargas for the engagement, spirit and care with which they tackled the difficult task of selecting works for the exhibition," said Scott Sherer, gallery director and UTSA assistant professor of art and art history. "Their individual creativity and their commitment as educators and cultural activists are examples of the potential for contemporary artists to encourage reflection, change and reverie."
The internationally acclaimed artists-jurors, Benito Huerta and Kathy Vargas, B.F.A. '81 and M.F.A. '84, made selections from nearly 600 works of art submitted by 150 artists. Huerta is director of The Gallery at the University of Texas at Arlington; Vargas is chair of the Department of Art at University of the Incarnate Word in San Antonio.
"New Art/Arte Nuevo: San Antonio 2008" is made possible by the generous support from the Salute to Education program funded by the San Antonio Ford and Lincoln-Mercury dealers and the Ford Motor Co.; Target Corp.; President Ricardo Romo and Dr. Harriett Romo; Dan Gelo, dean of the UTSA College of Liberal and Fine Arts; and Kent Rush, UTSA professor and chair of the Department of Art and Art History.
For more information, contact Laura Crist at (210) 458-4391.
------------------------------
Directions to the UTSA Arts Building gallery, 1604 Campus
From Interstate 10, take exit 557 to UTSA Boulevard. At the second traffic light, turn right onto James Bauerle Boulevard. Turn left onto O'Neil Ford Avenue and make an immediate right into lot 8. The Arts Building is on the right at the top of the walkway to the center of campus.