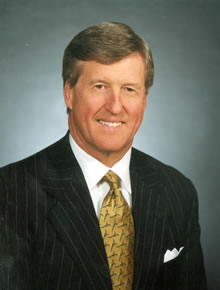 H. Scott Caven Jr.
Regents chair: 'Education costs often overestimated'
(June 19, 2008)--Editor's Note: The following comment piece was written by H. Scott Caven Jr., chairman of the University of Texas System Board of Regents, in response to a Houston Chronicle editorial. The Chronicle did not print this response. E-mail comments and suggestions to the University of Texas System at feedback@utsystem.edu
---
Today's headlines
Article tools
---
------------------------------
It's unfortunate how a single misused fact can lead many to erroneous conclusions, but that's apparently what has occurred as a result of the Houston Chronicle's June 6 editorial, "Denying Access," concerning tuition at public universities. And it is particularly distressing in light of our continuing efforts to keep student costs as low as possible and to reassure Texas families that a college education is within reach no matter what their financial circumstances.
Yet there it was in black and white: tuition has "jumped an average of 112 percent" at state institutions since lawmakers deregulated tuition in 2003.
While it may be true that one component of tuition has increased significantly, it's disingenuous to suggest that total academic costs -- that is, tuition and mandatory fees at a college or university -- increased by that amount.
The case made for repealing tuition deregulation by some legislators and editorial writers conveys a distorted picture of actual increases for students attending Texas institutions.
No one can dispute that tuition has increased. But the real increases in the academic cost of attending state institutions are far lower than the misleading and incomplete information that has been reported -- in fact less than half the figures cited. Surveys show that parents and students alike generally overestimate the cost of higher education, and while use of the inflated figure is a good headline, its use disserves Texas families by contributing to the tendency to overestimate costs.
For example, at UT Austin, total academic costs increased from Fall 2003 to Fall 2007 by 49 percent, not the far larger inflated figure cited in the news media. And the statewide increase was 52 percent, again less than half the purported change. The publicized calculations compared only designated tuition set by the boards of regents with designated, board-set tuition today, but did not take into account fees that affect overall costs and were not included in the calculations of the earlier era.
Increases in total academic costs at UT institutions in the years since deregulation -- on an average annual basis -- have actually been lower than or on par with increases in the 13 years before deregulation, when the Texas Legislature set tuition rates.
As an example, compare compounded annual total academic cost increases at UT Austin:
2003-2007: 49.4 percent, or 10.6 percent per year (set by the UT System Board of Regents)
1990-2003: 420.2 percent, or 13.5 percent per year (set by the Legislature)
The UT System recognizes the impact that higher costs can have on families and students. That is why we drew the line this year, setting a cap of $300 or 4.95 percent per year on further tuition increases. It should be noted in many instances student leadership supported larger increases to advance excellence on their respective campuses.
It also is why we are focusing much energy on controlling costs at our institutions through such initiatives as joint purchasing of equipment and supplies and sharing services such as information technology systems -- efforts that save millions of dollars for our campuses, savings that directly affect tuition rates.
We heartily support the legislative requirement that 20 percent of the increases imposed since tuition deregulation go toward financial aid. That and other actions by our institutions virtually ensure that our neediest students have been unaffected by tuition hikes.
The investment by UT institutions to provide financial assistance for students to attend college is significant. For the 2006-2007 academic year, total undergraduate financial aid at all UT System institutions was almost $1 billion.
In fact, across all UT System academic institutions, nearly half of all full-time undergraduates receive need-based financial aid, which covers more than 75 percent of their tuition and fees. At most of our campuses, students from families making less than $30,000 do not pay any tuition at all.
Furthermore, since 2003, students at UT Austin from middle-income families earning between $40,000 and $80,000 have seen annual total costs increase only 3 to 6 percent.
Tuition deregulation has provided great benefits in helping spur innovations in pricing that have allowed UT institutions to offer programs such as tuition rebates, flat rates and four-year guaranteed tuition rates, which encourage students to finish their degrees on time and avoid additional semesters attending school -- an incentive that more than offsets tuition increases.
The additional revenues produced by tuition increases have been put to work at UT institutions improving the quality of higher education, allowing us to hire almost 700 new faculty members and lower faculty-student ratios, and enabling us to provide improved student services, such as more academic and financial aid counselors. The flexibility to set tuition lets us strategically tailor tuition rates to the varying needs and student populations that exist across our nine campuses.
We are committed to keeping our universities accessible to all qualified students, regardless of their economic situation, while building and maintaining excellent programs. And peer comparisons clearly demonstrate that UT institutions are among the best values in American higher education.
That's an important and undistorted fact about higher education in Texas. And undistorted facts are important so that students and their families have fair and honest information on which to evaluate the benefits and costs of higher education.
We hope this information is useful to you. And, as always, we are grateful for your interest in the University of Texas System and its institutions.
Sincerely,
H. Scott Caven Jr.
Chairman
The University of Texas System Board of Regents