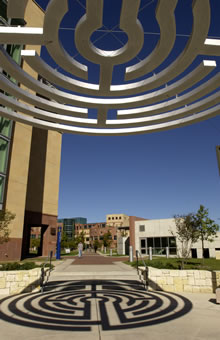 "Labyrinth" sculpture, UTSA Downtown Campus
UTSA Life: UTSA Counseling Services provides help to deal with adjustment issues
By Lynn Gosnell
Special Projects Writer
(June 11, 2008)--UTSA Counseling Services is home to support groups, learning assessments and advice for managing life's hurdles. This is the second of three stories on the continuum of care offered to UTSA students by Counseling Services. The first story centered on services concerning developmental issues, this one focuses on adjustment issues and a final story will discuss crisis intervention.
---
Today's headlines
Article tools
---
Two years ago, Jennifer, a 2008 UTSA graduate, chose to seek help for signs of depression. She just wasn't herself. The once straight-A student was failing in school, cried excessively in her room and had no desire to study. Her sorority sisters told her about the therapists at UTSA Counseling Services, and Jennifer made an appointment.
"Sometimes all it takes is for compassionate friend to lead them in our direction," says Thomas Baez, director of counseling services. "Friends, roommates, staff faculty and others can help by encouraging students that they see are distressed to seek help early," he says. However, the decision to seek is always up to the student.
"It was hard to call and make the appointment the first time," Jennifer remembers. She began seeing a therapist on a weekly basis during one fall semester, and since then has returned to check-in with her therapist whenever she experiences "some bumps in the road." The therapist also referred Jennifer to a psychiatrist who prescribed some medication to help with her symptoms.
Jennifer soon began to regain her self-confidence, and her grades went up. She describes her therapist as "a really good friend."
With offices at both the 1604 and Downtown campuses, UTSA Counseling Services sees more than 1,200 students a year. Students may sign up for individual counseling or choose to participate in counseling in a group setting.
"One of the advantages of group counseling is that students get to see that they are not alone," says Melissa Hernandez, assistant director of counseling services. "They get to meet and talk with students who are struggling with the same issues."
Most counseling groups have set start and end times, and will close to new members after a few sessions in order to maintain cohesiveness and build trust, Hernandez says. There are regular groups for anxiety management and for women's issues in general. An exception to the closed group schedule is the gay, lesbian, bisexual, transgender and questioning (GLBT and Q) group, which remains open year round to new membership.
"The students keep each other real," Hernandez says. "[They] can talk to each other in a very candid way."
New groups can begin at the discretion of a clinician, and students can also recommend a group topic as well.
Jennifer encourages her friends to seek help if they need it. "There's nothing to lose. It's confidential. They're not going to tell your friends or your parents that you came in."
--------------------------------
Recreation and Wellness Center Room 1.810, 1604 Campus, (210) 458-4140
Buena Vista Street Building Room 1.308, Downtown Campus, (210) 458-2930
Students can schedule an appointment or, for a first visit, they are encouraged to come in during walk-in hours, which change each semester. Check the Web site for walk-in hours.