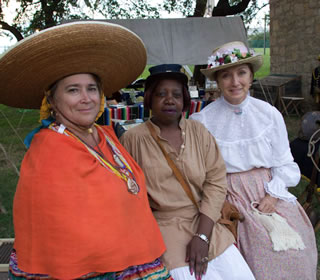 Texas Folklife Festival
We All Belong: Texas Folklife Festival is June 13-15
By James Benavides
Public Affairs Specialist
(June 9, 2008)--"We All Belong" is the theme for the 37th annual Texas Folklife Festival, June 13-15 at UTSA's Institute of Texan Cultures (ITC). The exhibition of the diverse cultures of Texas includes food, dance, music, storytelling, art, craftsmanship, customs and fashion. More than 250 groups representing 40 cultures will participate in the celebration.
---
Today's headlines
Article tools
---
This year's festival will feature 13 first-time participants including performing artists, craft vendors, coin collectors and the Texas Historical Commission. New participating cultural groups are from the Peruvian and Vietnamese communities.
Club Social y Cultural Peruano will serve Peruvian-style empanadas, tamales and other dishes, and the Matices Del Peru San Antonio will demonstrate Incan and Peruvian dances. The Vietnamese Lotus Flower Temple will demonstrate Vietnamese dance and serve spring rolls at their booth.
Friday the 13th is a good opportunity to meet with investigators from Everyday Paranormal, a local paranormal investigation team. At their booth near the Castroville Hearse, the group will present findings from their recent trip to ITC. The museum will be featured in their "Everyday Paranormal: Haunted Road Trips" DVD, expected this summer.
Food is always a festival highlight, and food judges will have a lot on their plates as they sample selections from more than 30 food vendors. Delicacies from around the world include Cajun etoufee, Lebanese shish kabobs, Scottish haggis and East Texas yam pie.
The Texas Folklife Festival will feature more than 60 musical performers on 10 stages with styles ranging from hip-hop to Spanish guitar to Zydeco. Denise Squier, 2008 Texas Music Awards female vocalist of the year finalist, is scheduled for an appearance with her band, Crosswind, from 2 to 3 p.m., Saturday, June 14.
ITC will close June 9 to prepare for Folklife and will re-open at 5 p.m., Friday, June 13 for the festival, closing at 11 p.m. Saturday festival hours are 11 a.m.-11 p.m. and Sunday hours are noon-7 p.m.
Tickets at the gate are $12 for adults (13 and older) and $6 for children (ages 6-12). Children five and under are admitted free. Discount tickets are available through June 15 at all H-E-B locations and at Ft. Sam Houston. Discount tickets are available through June 14 at Lackland and Randolph Air Force bases and through June 13 at all UTSA campuses.
Attendees are encouraged to use VIA Park and Ride services, $4 for a round trip, from Randolph Park and Ride (Interstate 35 and Randolph Boulevard), Blossom Athletic Center (12002 Jones Maltsberger Road), Crossroads Park and Ride (N.W. Loop 410 and Interstate 10W) or the Senator Frank Madla Transit Center, previously South Central Transit Center (Interstate 35 and Zarzamora).
For more information, including menus and entertainment guides, visit the Texas Folklife Festival Web site.