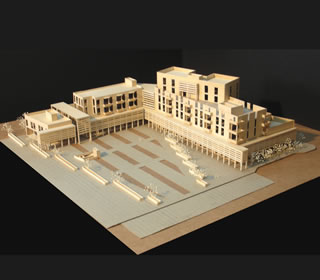 Top photo: Developer James Lifshutz (left) congratulates winner
Fabian Mancha
Bottom photo: Project model by Mancha
UTSA architecture projects consider urbanscape
By James Benavides
Public Affairs Specialist
(June 6, 2008)--Last spring, sophomore design students in the UTSA College of Architecture submitted ideas for a hypothetical mixed-use development across Jones Avenue from the San Antonio Museum of Art. Downtown resident Bill Lende posed the challenge to the students entering his annual design competition, which focuses on creatively revitalizing downtown San Antonio. Prizes ranging from $300 to $1,000 were awarded to the students late in the semester.
---
Today's headlines
Article tools
---
Earning top honors with a $1,000 prize was second-year student Fabian Mancha. Three second-place awards went to Mauricio Espinoza, Alejandro Gallegos and Arnold Rodriguez. Third place awards went to Jae Cho, Alfred Frausto, Casey Johnson, Domingo Sanchez, Justin Scanio and Thomas Schatte.
The theme for this year's competition was "Support of the Creative Economy," derived from writer Richard Florida's concept, which maintains that the new economy will be driven by the creative sector including science and technology, art and design, and culture and entertainment. Design concepts proposed by the UTSA students included a two-story colonnade surrounding a plaza with room for outdoor dining, rooftop gardens for insulation, art galleries and studios open to street, and a rooftop go-cart track.
Known as Ars Longa, the plaza follows the general outline of one shown in the city's River North Charrette and also lies on the museum reach of the River Walk expansion project.
Judging this year's competition were noted designers and business leaders including Ed Cross II, Cross & Co., Commercial Realty Advisors; James Lifshutz, Liberty Properties Development Group; Santino Medina, UTSA College of Architecture alumnus; Richard Mogas, AIA, Mogas & Associates Architects Inc.; David Rubin, The Brown Foundation Curator for Contemporary Art, SAMA; and Bob Sohn, attorney and strategic planner.