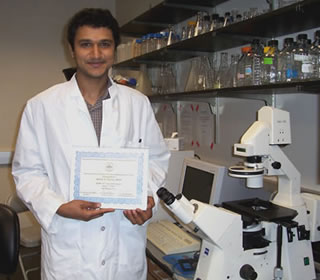 Ashlesh Murthy with award certificate
UTSA's Ashlesh Murthy presents research in Denmark
By Kris Rodriguez
Public Affairs Specialist
(June 25, 2008)--Thirty-two-year-old UTSA alumnus Ashlesh Murthy is having a very good year. The post-doctoral researcher, who works in the laboratory of UTSA immunologist Bernard Arulanandam, received a prestigious award for scientists of Indian origin and will travel to Denmark to present his research on a chlamydia vaccine.
---
Today's headlines
Article tools
---
In April, the Association of Scientists of Indian Origin in America (ASIOA) honored Murthy with the Biotex Junior Scientist Award in Immunology at a conference in San Diego. This week, he will travel to Aarhus, Denmark, to present his research findings at the sixth meeting of the European Society for Chlamydia Research.
The research conducted with supervising biology professor Arulanandam focuses on vaccine development for Chlamydia trachomatis, the most prevalent sexually transmissible disease agent with an estimated 91 million cases worldwide. The research team found success in administering a chlamydia vaccine in mice, and testing is underway at UTSA to determine its success in Guinea pigs.
"Ashlesh is the most prolific of our Ph.D. graduates with a dozen papers published and, as someone who works with him, he's also a first-rate scientist and top-notch person," said Neal Guentzel, UTSA professor of biology and associate dean of the College of Sciences. "He will continue to reflect positively on the type of research intensive graduates that UTSA is capable of producing."
Murthy earned his undergraduate degree from a medical school in India and in 2006 received UTSA's first doctorate in cell and molecular biology.
-------------------------------
>> Read more about Ashlesh Murthy:
>> View a Feb. 21, 2007, KENS-TV news video on research by Ashlesh Murthy (RealPlayer format)