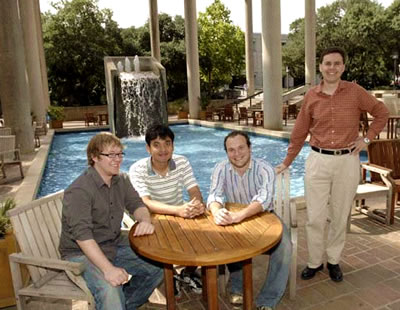 Putnam exam participants and UTSA students (from left): John Fuini, junior physics
major; Dang Nguyen, senior computer science major; and Denton Massey, junior
physics major, with Eduardo Dueñez, assistant professor of mathematics
UTSA Spotlight: Creating a culture of challenge -- Assistant Professor Eduardo Dueñez helps math students train their brains
By Marianne McBride Lewis
Director of Public Affairs
(June 4, 2008)--If you're like me, perhaps at the end of a long and stressful week, you like to kick your shoes off on Friday night and zone out in front of the TV. And, if so, perhaps you've also come across the CBS drama, "Numb3rs," a program about two brothers -- one an FBI agent, the other a university math professor -- who work together solving crimes in gritty Los Angeles.
---
Today's headlines
Article tools
---
With this in mind, when I interviewed Eduardo Dueñez, UTSA assistant professor of mathematics, about the amazing achievements of a group of his students, I had to ask him, "Do you watch 'Numb3rs?'"
"Yes, I have seen it," Dueñez admitted reluctantly. "I don't have cable, but I did rent the DVDs because it is a very popular show, and I figured my students might know about it." When asked about its authenticity, Dueñez replied, "They got the character's passion for mathematics right, but not the time it takes to solve problems -- that part is way over the top."
It was another over-the-top event that led to my meeting Dueñez and three of his students, Denton Massey, John Fuini and Dang Nguyen, after I learned of their success last December in the annual William Lowell Putnam Mathematical Competition.
The most well-known and prestigious university mathematics competition in North America, the Putnam annually attracts more than 3,700 undergraduate competitors representing more than 500 universities in the United States and Canada. To assure uniformity and fairness, the exam is taken at each college or university under the supervision of a mathematics professor on the same day and -- with time zone adjustments -- at close to the same time for all competitors.
The good performances of several students who managed to get full credit in some of the competition's strikingly difficult problems were sufficient to rank UTSA No. 145 out of 516 colleges and universities represented this year -- a phenomenal accomplishment for a math department without a dedicated Putnam mentor or a history of encouraging students to compete mathematically.
UTSA has competed in the Putnam only a few times. But, two years ago, Dueñez convinced a handful of engineering, computer science, biology and math students to get together for a no-credit, two-semester Friday evening seminar and practice solving problems. "It will be fun," he told them.
"I hadn't heard of the Putnam before I took the seminar," said Fuini, "but I am glad I know about it now." Dueñez' class, Fuini said, would be beneficial to "anyone who is on the Ph.D path and is interested in advancing the frontiers of knowledge in their field and anyone who likes to solve problems as a hobby."
Duenez teaches strategies on how to solve the Putnam problems. This involves approaching problems in a completely different way than students are used to.
"You begin to look at problems from multiple angles. You learn to solve problems creatively by breaking them apart, looking for patterns, etc.," Dueñez said. "You are not looking just to find the answer -- you are looking to find out why something is the answer."
Mathematical problem solving leads to math becoming part of your everyday thought process, Dueñez said. "My way of looking at everything has changed because of the discipline of thought learned in the laboratory of mathematics," he said. "You train your brain to become an educated thinker."
And, his students agree. "Taking this course helped me out more than any other class here at UTSA," said Massey. "It's helped in aspects of my other classes, and it is preparing me to solve problems that have yet to be solved."
The Dueñez voluntary seminar matured last academic year into a three-credit elective, MAT 4953 Special Studies in Mathematics. Whether or not the seminar will be offered in fall 2008 is still in discussion.
But regardless, Massey, Fuini and Nguyen plan to compete in the Putnam Exam again this December. Student winners from the highest achieving universities can earn funding for their math department or individually win a full scholarship to Harvard University or Radcliffe College plus a cash award of $12,000.
I, for one, will be rooting for all three.