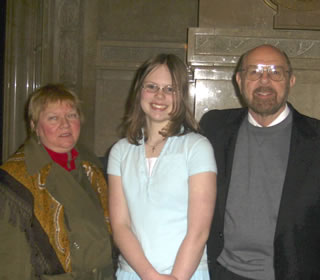 From left are Marianne Blackstone (grandmother of winner),
prizewinner Victoria Blackstone and Raymond Blackstone
(UTSA employee and grandfather of winner)
Employee's granddaughter to recite pledge at RNC
By Ashley Harris
Public Affairs Specialist
(July 17, 2008)--Like all grandparents, UTSA Testing Center Program Manager Raymond Blackstone is already proud of his 14 grandchildren. Yet recently, his granddaughter, Victoria Blackstone, offered up one more reason for him to swell with pride; as the winner of the Saint Paul Pioneer Press "Wave The Stars and Stripes" essay contest, she will recite the pledge of allegiance at an official event at the upcoming Republican National Convention. The 2008 Republican National Convention is September 1-4 in Minneapolis-St. Paul, Minn.
---
Today's headlines
Article tools
---
The essay competition, co-sponsored by the Republican National Convention, Microsoft and Qwest Telecommunications, asked St. Paul area schoolchildren grades seven through 12 to write a 500-word essay on what the pledge of allegiance means to them. Victoria, a high school freshman who lives with her parents in Roseville, Minn., was one of several hundred students who entered the competition.
"I was just flabbergasted when I found out," said Blackstone. "Everything she said in the essay are things that we all feel -- things that we all understand to be true. But, to be able to verbalize it like that, especially at her age... well you just want everyone in the world to know that she?s your granddaughter."
In addition to reciting the pledge at the Republican National Convention, Victoria will receive a laptop courtesy of Qwest, an X-Box 360 from Microsoft, as well as an American flag that flew over the Capitol Building in Washington, D.C.
Judges for the competition included Jo Ann Davidson, Republican National Convention chairman; Rachel Stassen-Berger, political reporter for the Pioneer Press; John Sampson, director of federal government affairs for Microsoft Corp.; John Stanoch, Qwest Minnesota president; Brig. Gen. Denny Schulstad, U.S.A.F., retired, and former Minneapolis city councilman; Chas Anderson, deputy commissioner of Minnesota Department of Education; and Leah McLean, KSTP news anchor.
The winning essay, "Pledging Myself to the Flag of the United States of America," was published in the Sunday, June 15 edition of the Pioneer Press. All entries from the competition will be sent to members of the 851st Vertical Engineer Company of the Minnesota National Guard currently serving in Iraq.