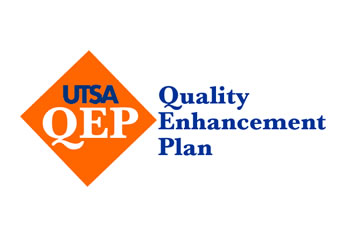 QEP committee announces pre-proposal finalists
By Tim Brownlee
Assistant Director of Public Affairs
(July 13, 2008)--The UTSA Quality Enhancement Plan (QEP) Committee announces three pre-proposal finalists, which were selected from 14 submissions. The QEP is part of the Southern Association of Colleges and Schools - Commission on Colleges (SACS-COC) Reaffirmation 2010 process which began last spring.
---
Today's headlines
Article tools
---
The SACS COC reaccreditation process involves two components -- preparation of the Compliance Certification Report and development of the Quality Enhancement Plan (QEP).
The QEP Committee has recommended three pre-proposals as finalists (QEP full proposals are due Oct. 1.). UTSA community members are invited to review the pre-proposals at the QEP Pre-proposal Web site and provide QEP finalists direct feedback as they develop their full proposals.
QEP pre-proposal finalists
"Maximizing the Relevance of Graduate Education for Current and Prospective Students"
"Quantitative Scholarship: From Literacy to Mastery"
"Service Learning: The Paseo to Lifelong Learning
The QEP is a new reaccreditation requirement described as a "carefully designed and focused course of action that addresses one or more critical issues related to enhancing student learning." The first milestone of the QEP development process was met with the submission of the pre-proposals from which three finalists were selected for further development.
To document UTSA's compliance status, UTSA must gather data on 12 core requirements, 53 comprehensive standards and eight federal requirements, and then write a report. The efforts are being coordinated by Belinda Flores, associate professor of interdisciplinary learning and teaching and faculty fellow working with the Office of Vice Provost for Accountability and Institutional Effectiveness.