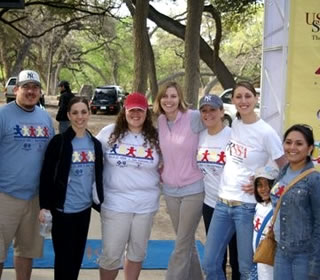 From left are UnityPR members Eric Gomez, April Sanchez, Kamir
Fernandez-Diaz, Christina O'Neill (CASA event coordinator),
Olivia Barrett, Kari Meuth and Adriana Hernandez (with daughter)
UTSA PR students help raise funds for kids
(July 21, 2008)--The student organization, UnityPR, recently partnered with Child Advocates San Antonio (CASA) to promote an annual 5K run in Olmos Park. The event raised $24,500 to help abused and neglected children. Sponsored by the Department of Communication, UnityPR is a new student-run firm of UTSA's Public Relations Student Society of America (PRSSA) Steven R. Levitt Chapter.
---
Today's headlines
Article tools
---
"On behalf of Child Advocates San Antonio, I would like to commend the members of UnityPR for their help in making this year's Speak Up for Kids CASA 5K a great success," said Rick Gonzales, CASA development director. "We nearly doubled the number of participants at this year's 5K from 300 in 2007 to 590 in 2008."
"Besides helping us gain more media coverage prior to the event, UnityPR did a wonderful job in promoting it on the UTSA campus and at local businesses," added Gonzales. "The group's help with logistics before and during the 5K was much appreciated. We are all impressed with the enthusiasm and desire of UTSA students to work toward the greater good of our community by helping CASA continue to speak up for abused and neglected children."
UnityPR's mission is to collaborate with San Antonio organizations to provide quality public relations services for clients and educational opportunities for members. The organization has two other clients, the Battle of Flowers Association and SA Indie, an independent artist music festival.
This year, UnityPR students assisted the Battle of Flowers Association with media relations. The group will conduct a long-term campaign to generate innovative ideas for future Battle of Flowers parades to ensure that the parade remains vital and relevant to the entire San Antonio community. UnityPR also will work to make the Sept. 26-28 SA Indie festival bigger and better than its first run last year. SA Indie organizers will collaborate with CASA and other nonprofits that will receive proceeds from festival profits.
UnityPR landed its first client in July 2006. Members teamed with the Med Center Rotary Club to publicize the 2007 Nightingale Gala, which successfully raised $47,000 for nursing scholarships.
For more information on UnityPR contact Steven Levitt, chair of the UTSA Department of Communication and PRSSA adviser, at (210) 458-5990.