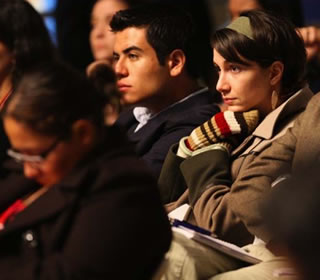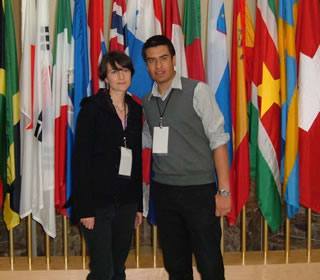 UTSA students Alejandra Osejo and Raul Montelongo
at Washington, D.C., conference
UTSA students attend Latina youth conference
By James Benavides
Public Affairs Specialist
(July 15, 2008)--Two UTSA students, Raul Montelongo and Alejandra Osejo, finished the spring semester with a trip to Washington, D.C., for the Vanguardia Latina 2008 youth leadership conference, which included participants from 20 countries. The conference fosters the study of the social and political climates of Latin cultures in the United States and abroad.
---
Today's headlines
Article tools
---
Sponsored by the UTSA Mexico Center, Montelongo, who graduated with a degree in electrical engineering, and Osejo, a double major in Spanish and English as a second language, represented the university at the forum hosted by Latin television conglomerate Televisa. They met students from the United States, Argentina, Brazil, Colombia, El Salvador, Guatemala, Mexico and other Latin American countries. Born in Mexico, Montelongo and Osejo both are fluent in English and Spanish.
Emilio Azcarraga-Jean, president and CEO of Televisa, envisioned Vanguardia as a forum to build and strengthen links between the future leaders of Latin America and the United States. The Vanguardia conference focuses on engaging college-level Latino students and encourages them to return to their native countries to become active in government and civic processes, which facilitates progress in industrial, technological and societal development.
Over the four days of the conference, the students discussed a range of issues including arts and culture, economics, politics, security, immigration and education. The discussions led to the drafting of policy recommendations that were presented to U.S. Secretary of Education Margaret Spellings; Jose Miguel Insulza, secretary general of the Organization of the American States; Arturo Sarukhan, Mexican ambassador to the U.S.; and Luis Alberto Moreno, president of the Inter American Development Bank.
In a report Osejo prepared for the Mexico Center, she discussed some of the conversations from the four-day conference. Her work group addressed three key topics including the fair treatment of immigrants between Mexico, the U.S. and Latin American countries; the improvement of education in underdeveloped areas; and the desegregation, integration and protection of Native American peoples.
Through four days with top academics, government officials, international delegates and corporate officers from the United States and Central and South America, the students had the opportunity to influence and advance the state of affairs in their native countries and received the inspiration to play an active role in the process of government.
------------------------------
The UTSA Mexico Center is a resource for scholars studying U.S.-Mexico relations and the interactions of the two societies. The lectures series is part of the center's goal to open dialogue to promote bilateral policies to resolve mutual concerns. The center provides scholarships and research fellowships and facilitates travel and lodging for students and researchers to consult with experts in Mexico.
For more information, visit the UTSA Mexico Center Web site, which includes information on fellowships, scholarships, study-abroad opportunities and an events calendar.