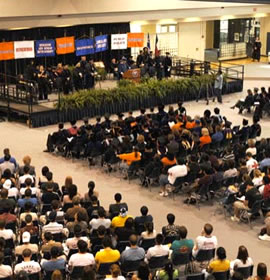 UTSA Fall Convocation 2007
UTSA Fall Convocation starts new year Aug. 25
By Patricia Graham
Executive Director, Special Events Center
(Aug. 15, 2008)--The UTSA Fall Convocation 2008 will be conducted from 10 a.m. to 11:30 a.m., Monday, Aug. 25 in the Recreation Center gymnasium on the 1604 Campus. This year's theme is "Your Journey Begins..." with UTSA President Ricardo Romo as the keynote speaker.
---
Today's headlines
Article tools
---
As one of the many events starting the new academic year during UTSA Roadrunner Days, the convocation is free and open to UTSA students, faculty, staff and friends.
>> View the Fall Convocation by live video stream.
Faculty and staff members participating in the processional march will meet at 9:30 a.m. in the Recreation Center second floor corridor. Those marching are encouraged to wear academic regalia, but may wear university colors -- orange, white and blue.
Faculty and staff marching in the procession are invited to attend a pre-event breakfast in the Recreation Center upstairs studios at 8:30 a.m. Seats for the free breakfast must be reserved by Thursday, Aug. 21 by e-mailing engaged@utsa.edu or calling (210) 458-4770.
College orientation sessions and lunch will follow the convocation ceremony at various locations on the 1604 Campus. Students from the College of Architecture and the College of Public Policy will be bused to the Downtown Campus for their college orientations and lunch.