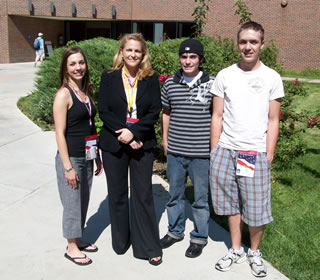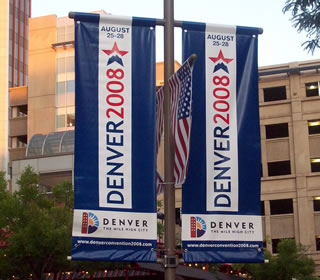 Top photo: From left at the site of the Democratic National Convention
in Denver are student April Sanchez, Associate Professor Amy
Jasperson, student Matthew Shelton and student Peter Sebesta
Bottom photo: Convention banners
>> Video interviews:
UTSA student April Sanchez, KABB-TV (8/26/08);
UTSA student Matthew Shelton, KABB-TV (8/28/08);
Amy Jasperson, UTSA assistant professor of
political science, KABB-TV (8/29/08);
UTSA student Peter Sebesta, KABB-TV (8/29/08)
Part I: UTSA opens doors to national political conventions
By Cindy Brockwell
Special Projects Writer
(Aug. 22, 2008)--Confetti, motorcades, flag-waving and wild hats decorated to catch the camera's eye... These are scenes common to the national conventions of both major political parties. Those of us watching from home see carefully orchestrated major productions, but five UTSA Honors College students are getting a look behind the scenes at the conventions.
This week, we profile students at the Democratic National Convention: Peter Sebesta, April Sanchez and Matthew Shelton.
---
Today's headlines
Article tools
---
>> Check out their convention blog at the College Perspective site.
The opportunities came in part because the students enrolled in the Campaign 2008 honors course taught by Amy Jasperson, UTSA associate professor of political science and geography. The students are participating in a non-partisan academic program through the Washington Center for Internships and Academic Seminars. With monetary support and cameras furnished by Time Warner Cable San Antonio, the students post photos and videos of their daily experiences.
Sebesta, Sanchez and Shelton are in Denver now attending academic seminars and a lecture series before the Democratic National Convention opens Aug. 24. Two more UTSA students will have the same opportunity during the Republican convention in Minneapolis-St. Paul Sept. 1-4. Their pre-convention adventure begins Aug. 24.
Second-year student Peter Sebesta is majoring in architecture. He was born in Denver but has lived in Texas since he was two. Moving from Houston to Austin, he graduated from Dripping Springs High School, where he was in the symphonic, marching and jazz bands.
Sebesta has the privilege of voting for the first time this year. "What better Politics 101 crash course than the Democratic National Convention?" he notes.
He realizes that politics affect everyone. He hopes this experience will give him greater insight on the views of the Democratic Party and the politic process. His political news comes from CNN.com and other Web sites. He also turns to his dad for discussions of politics and world events.
The only senior among our convention-goers is April Sanchez. She's a communications major with an emphasis in public relations. Minoring in political science and legal studies, she plans to attend law school next fall.
Sanchez graduated from Americas High School in El Paso. She started at UTSA as a freshman. "I am very interested in the political process, thanks to my mother, and I have been exposed to the political process for years," she explains. This is Sanchez' first opportunity to vote in a presidential election, and she relies on her mother and National Public Radio for unbiased political information.
Sanchez looks forward to seeing how "theatrical the convention will... or will not be." She admires U.S. Sen. Joe Biden and calls him practical, objective and a great politician.
Students log six hours of volunteer fieldwork during the conventions. Sanchez is working with the Democratic National Convention Committee.
Rounding out the trio is Matthew Shelton. He's the only San Antonio native in the bunch and a graduate of St. Anthony Catholic High School. A political science major, the UTSA sophomore also plans to go to law school after graduation. A run for public office is definitely an option.
Shelton interns for Bexar County Commissioner Tommy Adkisson. He also volunteers with the local Democratic Party, but this is his first exposure to national politics. He admires Sen. Barack Obama. "This is the first politician I've been excited about. He has truly inspired me," says Shelton. "He has a message that I can relate to... change."
Shelton monitors the news via National Public Radio, CNN and Current TV. His Denver assignment is with the convention committee housing office, and he'll be assisting delegates from Utah.