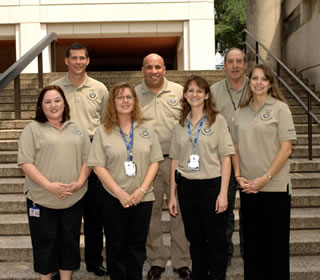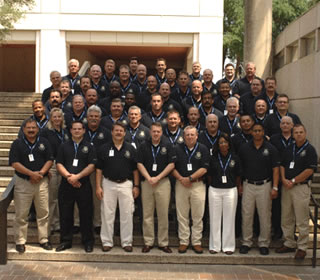 UTSA's FBI Command College participants:
Top photo (from left): UTSA organizers of the event --
In the back row are FBI agent Dave Schmachtenberger,
UTSAPD Chief David Hernandez and Lt. Greg Whitlock,
Kendall County Sheriff's Office; in the front row are
UTSAPD representatives Rebecca Gomez, Robin Diamond,
Stephanie Padula and Rachel Vega
Bottom photo: FBI Command College participants
(Photos by Mark McClendon)
Police department co-hosts FBI Command College
By Stephanie Padula
Lieutenant, UTSA Police Department
(Aug. 19, 2008)--The UTSA Police Department and the FBI recently organized and hosted the Texas FBI Command College to help law enforcement agencies better serve their communities. UTSA's Lt. Paul English was among the 55 participants in the five-day college which focused on Texas agencies with less than 51 peace officers. Among the more than 2,500 Texas law enforcement agencies, approximately 90 percent employ fewer than 51 officers.
---
Today's headlines
Article tools
---
In a collaborative effort including the FBI offices in San Antonio, Houston, El Paso and Dallas, the Texas FBI Command College is conducted every four years. The regional college was established to train chief executives and top agency officers who are not able to leave their agencies for 10 weeks to attend the National Academy in Quantico, Va., a more in-depth leadership training program.
The Texas command college provides training in areas of leadership, employee retention, media relations and legal issues as well as numerous other subjects critical to agency leaders. The command college also facilitates networking of the represented smaller agencies and bolsters the relationships of participating departments. The enhanced networking capability benefits the agencies and the FBI alike.
The UTSA Police Department was proud to host more than 50 law enforcement executives on our campus. More than half stayed in the Laurel Village housing complex and utilized the Recreation and Wellness Center facilities as well as the university's wireless and high-speed computing network.
The event was a great opportunity to showcase UTSA, the campus police department and the City of San Antonio.
For more information, visit the UTSA Police Department Web site.