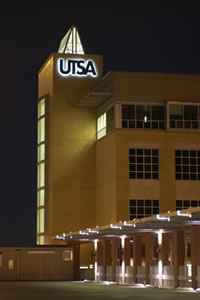 Durango Building, UTSA Downtown Campus
(Photo by Patrick Ray Dunn)
UTSA Institute for Economic Development: a big resource for small business in the region
By James M. Benavides
Public Affairs Specialist
(Aug. 21, 2008)--UTSA continues to lead and support regional economic development, having recently hosted two major events to assist businesses in gaining financial support and government contracts. Through UTSA's Institute for Economic Development and Small Business Development Center, the events help fuel business growth and demand for UTSA graduates as new jobs are created in the process.
---
Today's headlines
Article tools
---
Aug. 11-13, the Mid-America Lenders Conference hosted 400 bankers from across Texas, Louisiana, Arkansas, Oklahoma and New Mexico at the new Grand Hyatt downtown. Meetings with officials from the U.S. Small Business Administration and collaboration with UTSA's Small Business Development Center's 79-county South-West Texas Border Region have been instrumental in providing $1.6 billion in business loans to more than 6,700 small businesses in the region for 2008 year-to-date. Emergency relief loans to businesses affected by hurricane and flood damage in the Rio Grande Valley were discussed, as well as financing to expand international trade and alternative energy.
Wednesday, Aug. 13 at the UTSA Downtown Campus, the San Antonio Business Opportunity Conference hosted 250 government-contracting businesses and agencies. This high-level extended education for business owners helped them learn the technicalities of competing for major government contracts such as construction, personnel, information technology and specialized services with customers including Fort Sam Houston; U.S. Army Medical Command; Air Force Intelligence, Security and Reconnaissance Agency; Veterans Healthcare System; City of San Antonio; UTSA and many others.
UTSA's Institute for Economic Development serves more than 29,500 businesses annually through extended education, consulting and research. The IED contributes substantial economic impact to the regional economy. The institute's programs assisted clients in creating 3,928 jobs, starting 472 businesses, increasing revenues by obtaining $748.7 million in new sales, contracts and exports, and attracting $175.5 million in growth capital in their service region in the 2007 fiscal year.
For information on upcoming seminars and training opportunities, call (210) 458-2020.