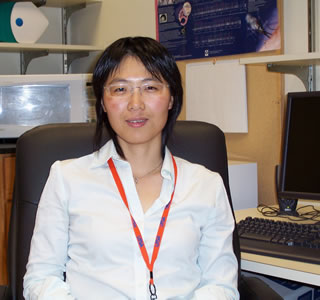 MBRS/SCORE grantees:
Top photo: South Texas Center for Emerging Infectious Disease
researcher Janakiram Seshu (right) with doctoral student
Mahulena Maruskova
Bottom photo: Yufeng Wang, assistant professor of biology
Minority research support program awarded $9 million
By Kris Rodriguez
Public Affairs Specialist
(Aug. 18, 2008)--The UTSA Minority Biomedical Research Support for Continuous Research Excellence (MBRS/SCORE) program has been awarded a five-year, $9 million grant from the National Institutes of Health (NIH). The funding will support 10 faculty research projects in a variety of disciplines.
---
Today's headlines
Article tools
---
MBRS/SCORE seeks to increase the participation of individuals from minority or underrepresented groups in scientific research. UTSA's involvement in the MBRS/SCORE program began in 1981 and has increased over the years as more faculty members pursue biomedical research projects.
"This grant will help serve as another building block in UTSA's efforts to achieve premier public research university status," said Robert Gracy, UTSA vice president for research. "It also reinforces UTSA's reputation as a national leader in educating underrepresented minorities in the sciences and in the recruitment and promotion of UTSA faculty researchers."
UTSA's MBRS/SCORE newly funded projects include researching how the brain comprehends languages spoken by bilingual individuals, developing effective means to prevent the transmission of Lyme disease and using cutting-edge computational biology databases to predict genetic systems in malaria carrying parasites.
Janakarim Seshu, assistant professor of biology, was awarded $1.4 million to identify how Borrelia burgdorferis, the cause of Lyme disease, interacts with mammalian hosts cells.
Yufeng Wang, assistant professor of biology, will receive $1.2 million to use a computational biology approach to predict dynamics in systems of genes working in malaria parasites. Malaria is a global problem that claims two million lives annually and affects 500 million people worldwide.
The MBRS/SCORE program develops the biomedical research capability of faculty to increase the number of minorities actively engaged in biomedical research. To accomplish this goal, researchers must increase the number of publications in peer-reviewed journals and increase the number and size of non-MBRS grants submitted and funded. Additionally, the rate of faculty members with at least one minority student in their programs must be increased as well as the participation rate of SCORE faculty serving as referees for journals or grants.
The National Institutes of Health support to UTSA College of Sciences faculty members involved with the MBRS/SCORE program over the years has increased to more than $32 million.
For more information, contact Lachelle Dixon at (210) 458-4185 or visit the MBRS Web site.
Serving more than 5,000 students enrolled in nine undergraduate degree programs and 15 graduate programs, the UTSA College of Sciences is uniquely poised to prepare the next generation of scientists for careers in business, technology and academia. The college houses six departments: biology, chemistry, computer science, geological sciences, mathematics, and physics and astronomy.
---------------------------------
UTSA MBRS/SCORE research grant awards
Nicole Wicha, Assistant Professor of Biology, UTSA College of Sciences, "Brain and Behavior of Bilingual Language Comprehension," $1,445,000
David Johnson, Assistant Professor of Chemistry, UTSA College of Sciences, "Engineering Drug-Release Surfaces for Biomedical Devices Via Self-Assembled Monolayers," $1,445,000
Janikaram Seshu, Assistant Professor of Biology, UTSA College of Sciences, "Borrelia burgdorferi Interactions with Mammalian Host Cells," $1,415,000
Jilani Chaudri, Assistant Professor of Biology, UTSA College of Sciences, "Identification of Novel Mammalian Genes Required for Intoxication by Anthrax," $1,317,215
Yufeng Wang, Assistant Professor of Biology, UTSA College of Sciences, "Systems Biology of Plasmodium falciparum: Building and Exploring Network Models," $1,238,125
Brenda Hannon, Assistant Professor of Psychology, UTSA College of Liberal and Fine Arts, "A New Strategy for Learning Highly Similar Concepts," $636,750
Liao Chen, Professor of Physics, UTSA College of Sciences, "Theoretical Investigation of Kinesin-1 and Other Molecular Motors," $424,600
Carlos Garcia, Assistant Professor of Chemistry, UTSA College of Sciences, "Enzymes Absorbed on Carbon Nanotubes," $413,814
Hans Heidner, Associate Professor of Biology, UTSA College of Sciences, "Targeting Vaccine Vectors and Antigens to Dendritic Cells Using Protein L," $318,375
George Negrete, Professor of Chemistry, UTSA College of Sciences, "Novel Lipid Analogs for Use in Nanocapsule Medicinal Agent Delivery," $140,054