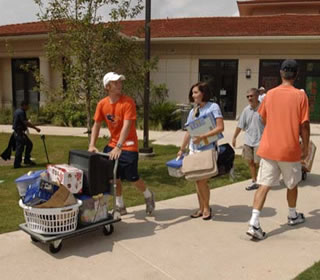 Students move in at the UTSA 1604 Campus
UTSA student move-in kicks off fall semester
By Omar Hernandez
Public Affairs Specialist
(Aug. 29, 2008)--Over the Aug. 22-24 weekend, 1,250 students moved into UTSA resident housing and had a chance to get situated before the first day of school. Roadrunner Days officially kicked off Friday, Aug. 22 with the Residence Hall Move-In. It's the first of several events that lead up to the first day of class, this year on Aug. 27.
---
Today's headlines
Article tools
---
Parking lot 1A was full of students and their family members unloading a semester's worth of necessities. The move-in also showcased the completion of the Laurel Village complex, which added 500 beds for fall 2008. More than 150 UTSA faculty, staff and students volunteered over the weekend to help however they could.
Some students moving into housing were returning students but most were first-time college students. While some emotional pressure added to the stress of the move, most parents were impressed with the housing and were comfortable leaving their student at UTSA.
"I don't feel good about letting him go, but we've got to let him get out here and fly," said Jerry Gowens from Houston, Texas. "The facilities are much better than when I was in college, so at least we feel good about where he'll be while he's not at home."
As a series of events to help new students acclimate to campus life, UTSA Roadrunner Days featured "A Night of Comedy" on Aug. 27 with Rondell Sheridan of TV's "Cory in the House," "That's So Raven" and "Cousin Skeeter."