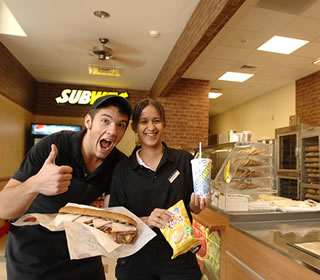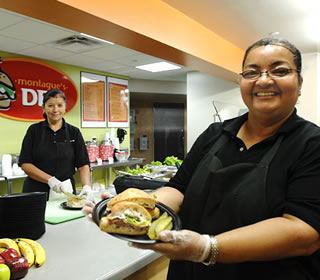 Servers at the new Subway in UC III (top photo) and Montague's Deli
at the JPL food court (bottom photo) show featured sandwiches.
(Photos by Mark McClendon)
UTSA dining goes to higher level with new choices
By Jane Wilcox
Director of Business Auxiliary Services
and
Domingo Gonzalez
District Marketing Manager, ARAMARK Higher Education
(Aug. 20, 2008)--Students will have a nice surprise when they return to UTSA this fall to see that dining on campus has undergone an extreme makeover. The UTSA Office of Business Auxiliary Services and UTSA food service provider ARAMARK partnered to bring innovation across the campus.
---
Today's headlines
Article tools
---
The University Center has expanded not only in buildings and size, but also in food options. Take a stroll along the new paseo between University Center II and the new University Center III and you'll find Starbucks ready to make you that perfect espresso or blended coffee drink.
The first Taco Cabana on any university campus will offer students a true Tex-Mex experience including favorite selections such as sizzling fajitas, quesadillas, flautas, breakfast tacos and more. And, from traditional Chinese favorites to fresh new taste creations, the chefs at Panda Express will wok up a delicious menu with something for everyone to enjoy. Also, Taco Cabana and Panda Express will be in good company with a classic grill and pizza concept, all located in the UC.
Look for the new C3 convenience store where Subway formerly was located in the UC II. You can purchase boxed cereal, milk, cleaning supplies, toiletries, snacks, frozen meals and more.
The new food options don't stop there. Chick-fil-A Express and the famous chicken sandwich, Sushic -- The Sushi Company, Bene Pizza and Pasta, and Montague's Deli will be located in the John Peace Library Building food court. Smoothies from Freshens and a variety of grab-n-go options also will be available at this location.
Other dining options on the 1604 Campus include Einstein Bros. Bagels at the Biotechnology, Sciences and Engineering Building and the brand-new Extreme Pita in the Business Building. This fast, fresh and fun brand offers a customized rolled pita to suit the individual tastes of each customer. Menu items include the Extreme Club, Philly Cheese Steak, Beef Bistro, grilled chicken, gyros and falafel.
Living on campus is great, especially when you're right next to "Real Food on Campus (RFoC) at Roadrunner Café," an all-you-care-to-eat facility that not only feeds residential students, but also is enjoyed by all students, faculty, staff and visitors. The residential dining facility is complete with an action sauté station, grill, fresh produce station, brick oven pizza, deli sandwiches, all-day breakfast, cereal, dessert and much more.
Business Auxiliary Services and ARAMARK are dedicated to serving the UTSA community and will offer later hours of operation at many of these locations. For dining hours, visit the UTSA Campus Dish Web site.