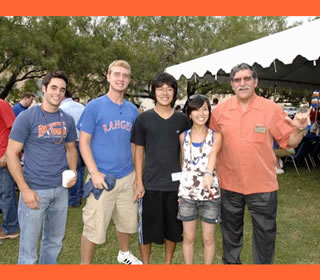 Top photo: President Ricardo Romo with students at 2007 barbeque
Bottom photo: Other participants at 2007 event
(Photos by Mark McClendon)
UTSA community invited to three Aug. 27 picnics
By Tim Brownlee
Assistant Director of Public Affairs
(Aug. 26, 2008)--UTSA President Ricardo Romo will host two picnics and a barbeque Wednesday, Aug. 27 at the Downtown and 1604 campuses. Romo will be on hand to greet the crowds at all three events. Free and open to the UTSA community, they are part of Roadrunner Days, a series of events for faculty and staff to greet colleagues and welcome new and returning students to the Tri-campuses.
---
Today's headlines
Article tools
---
The President's Picnic in the Plaza is 11 a.m.-1 p.m. at Bill Miller Plaza on the Downtown Campus. The President's Picnic at the Sombrilla is 11 a.m.-1 p.m. at Sombrilla Plaza on the 1604 Campus. Both events will feature food and music.
A third event, the President's BBQ is 5-7 p.m. at the Convocation Center west mall on the 1604 Campus. Along with barbeque dinners, there will be music by Highspeed Hayride and games.
The event will be followed at 7:30 p.m. by "A Night of Comedy" in the University Center ballroom featuring TV's Rondell Sheridan and Darren Carter from "Comedy Slam." The event geared to students is free and open to all.
"These are wonderful opportunities to meet colleagues and students and to set a positive tone for the year to come," said Romo. "I encourage all UTSA community members to participate in these events that will be free, fun and spirited -- and I look forward to seeing everyone there."