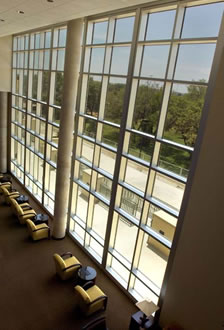 University Center III views
Top row: UC III view
Second row: Bricklayers at UC III and lounge
Third row: Lounge featuring Internet connections
Bottom row: Ballroom and gameroom
(Photos by Mark McClendon)
University Center III readies for grand opening
By Omar Hernandez
Public Affairs Specialist
(Aug. 14, 2008)--Construction in the center of the UTSA 1604 Campus is finally wrapping up. The newest addition to the University Center, or UC III, has opened its doors, so staff can move in and get settled.
Over the next few weeks, boxes will be unpacked, the final touches to the building will be added and UC III will finally come online with a grand opening celebration at 5 p.m., Tuesday, Aug. 26, with tours from 5:30 to 7 p.m.
The University Center has come a long way over the years. Part of the original UTSA construction plans, the first UC space was built in 1986. At 40,000 square feet, it was a big space for the time. UC II came 10 years later in 1996 with an additional 100,000 square feet. Now, with another 60,000 square feet of space, UC III will have plenty or room to support student life on campus.
In 2003, students voted on a referendum to increase student fees $120 to expand the UC and accommodate the growing needs of students on campus.
"With the growth here on campus, students realized they needed more space for programs, activities and organizations," said Lowa Mwilambwe, director of the University Center.
After the vote, an architectural firm was hired to help design the building and focus groups with students and staff helped determine what students wanted the building to include. Once the research was completed and the design finalized, contractors broke ground in spring 2007.
The newest addition to the University Center has a ballroom complete with full kitchen, conference rooms, offices for staff and organizations, a lounge for students to unwind and a game room. Outdoors, behind the building, there is a green space, where students can linger on the lawns and enjoy concerts, movie nights or just relax between classes.
The front of the building, or "store front," will showcase for its curb appeal the main organizations on campus that include Student Government Association, V.O.I.C.E.S, Campus Activity Board, Special Events Center, Greek councils and the information center. Mwilambwe hopes this will help students get involved and have a sense of belonging to the university community, while helping them realize that there is more to do on campus above and beyond just going to class.
---
Today's headlines
Article tools
---
Construction on UC III also includes a revamp to the existing University Center. On the first floor of UC II there will be a convenience store, bank and retail operation. Next to Starbucks will be a retail operation and on the other side -- a food court with Taco Cabana, Panda Express and, in spring 2009, Wendy's. Subway will move from UC II to the first floor of UC III.
"Students really wanted this facility, they pushed for it, they passed it at SGA, SGA put it on a referendum and the student body voted for it, so students have been involved from beginning to end," said Mwilambwe.
Although the building has opened it doors, the facilities will not be available for students until mid-August. However, reservations for the fall semester are being accepted at the University Center Web site, and available spaces can be found on the UTSA Calendar.
University Center Information Center staff will provide tours of UC III between 10 a.m. and 12:30 p.m., Aug. 18-22. Special tours can be arranged for other times, including during Roadrunner Days, by calling (210) 458-4735.