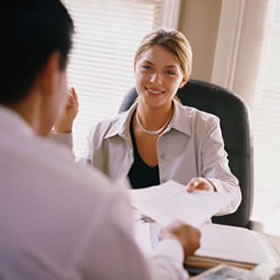 Career Services offers crucial interview training
By Susan Dollar
Director of Career Services
(Sept. 17, 2008)--UTSA Career Services will offer a series of events this fall to help UTSA students begin their careers through important networking opportunities. Last year, UTSA hosted more than 1,580 employers at career fairs, making it vitally important for students to know how to prepare and successfully interview for internships and full-time positions.
---
Today's headlines
Article tools
---
To improve the quality of students' skills, students interviewing through the campus program now must attend the Professional Interviewing 101 workshop. Workshops will be offered several times a day throughout the semester in order for students to have ample opportunity to attend. If it is impossible to attend a workshop, they can make an appointment with a career counselor for a one-on-one presentation or they can participate in an online version of the workshop.
>> Visit the UTSA Career Services Web site for the workshop schedule.
Faculty members can invite a UTSA Career Services counselor for a classroom presentation. In 10 minutes, a counselor can present an overview of the services and events in the campus interview program, or an interview workshop can be scheduled for an entire class period. Additionally, faculty members are strongly encouraged to attend career events and to promote them to students by mentioning the events in class and including information in course syllabi.
For more information, visit the UTSA Career Services Web site or call (210) 458-5500.
-------------------------------
UTSA Career Services special events
1604 Campus Fall Career Fair
Wednesday, Sept. 24
10 a.m.-2 p.m.
Convocation Center
Open to all students and alumni seeking full-time and internship positions
Business dress and resumes required
Business Etiquette Dinner
Tuesday, Oct. 7
5:30-8 p.m., University Center III ballroom, 1604 Campus
$15, tickets must be purchased in advance
Business dress required
Downtown Campus Fall Career Fair
Wednesday, Oct. 22
10 a.m.-2 p.m.
Radisson Hotel
Open to all students and alumni seeking full-time and internship positions
Business dress and resumes required
Educator Career Fair
Thursday, Nov. 6
Fair: 9-11:30 a.m.
Interviews: 1-4 p.m., University Center III ballroom, 1604 Campus
Open to all students and alumni interested in careers in education
Business dress and resumes required