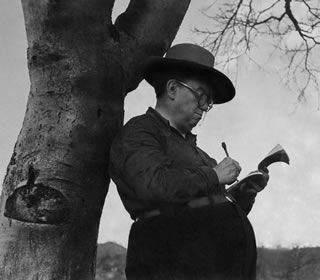 Diego Rivera, ca. 1949
(Photo by Manuel Alvarez Bravo)
UTSA hosts Sept. 5 showing of Diego Rivera documentary
By James M. Benavides
Public Affairs Specialist
(Sept. 2, 2008)--The UTSA Mexico Center, UTSA Hispanic Student Association and the Instituto Cultural de Mexico will host the premier of the film, "Un Retrato de Diego: la Revolucion de la Mirada" (A Portrait of Diego: The Revolutionary Gaze), from 6:30 to 8:30 p.m., Friday, Sept. 5, at the University Center Retama Auditorium (2.02.02) on the 1604 Campus. Diego Rivera, the celebrated muralist, was married to Mexican artist Frida Kahlo. A reception hosted by UTSA President Ricardo Romo and Dr. Harriett Romo is 5:30-6:30 p.m. at the auditorium.
---
Today's headlines
Article tools
---
Free and open to the public, the 80-minute documentary features footage of Rivera from the late 1940s shot by photographer Manuel Alvarez Bravo and cinematographer Gabriel Figueroa. Bravo and Figueroa sought to document Rivera's creative process as he developed his artworks.
>> View an e-invitation and the documentary trailer.
There will be encore free showings at the UTSA Downtown Campus Buena Vista Theater at 2 p.m. and 4 p.m., Wednesday, Sept. 10. An additional viewing will be at the Instituto Cultural de Mexico in HemisFair Park, 5-7 p.m., Sunday, Sept. 7. UTSA will retain a copy of the film, making it available at the Downtown Campus.
The project was shelved before completion, but Gabriel Figueroa Flores (Figueroa's son) and Diego Lopez Rivera (Rivera's grandson) discovered the lost footage and were determined to complete the project. Figueroa Flores and Lopez Rivera will attend the Friday night showing and answer questions following the film.
The documentary combines archival footage from the 1940s and interviews from Rivera's friends and relatives. Film clips from Mexico's "Golden Age of Cinema" provide a historical context for the film setting.
A noted muralist, Rivera was born in Guanajuato, Mexico, in 1886 and died in Mexico City in 1957. He is commonly known for his turbulent marriage to Frida Kahlo. A controversial figure, Rivera's murals often included elements of his communist leanings. He is best known for "Detroit Industry," a 27-panel mural at the Detroit Institute of Arts; "Man, Controller of the Universe," at the Palacio de Bellas Artes in Mexico City; and "Pan American Unity," a 10-panel mural prepared for the Golden Gate International Exposition in San Francisco.
Lopez-Rivera and Figueroa Flores chose to premier the documentary on a university campus to introduce a new generation to the artworks of Diego Rivera.
The UTSA organizing committee for the screening included Arturo Almeida, Felipe Barrera, Gabriela Franco-Palafox, Olivia Lopez, Gina Mendez, Martin C. Rodriguez and Harriett Romo.
For more information, visit the UTSA Mexico Center Web site or call (210) 458-2923.