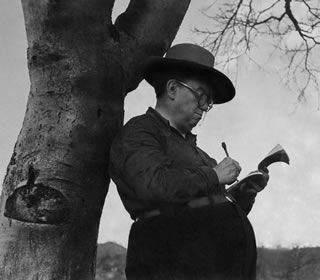 Diego Rivera, ca. 1949
(Photo by Manuel Alvarez Bravo)
UTSA hosts encores of Diego Rivera documentary
By James M. Benavides
Public Affairs Specialist
(Sept. 8, 2008)--UTSA will offer two encore presentations of "Un Retrato de Diego," a documentary on legendary Mexican muralist Diego Rivera, with the free screenings at 2 and 4 p.m., Wednesday, Sept. 10 at the Buena Vista Theater on the Downtown Campus. The film showings are open to the public.
---
Today's headlines
Article tools
---
The 80-minute documentary features footage of Rivera from the late 1940s shot by photographer Manuel Alvarez Bravo and cinematographer Gabriel Figueroa, who sought to document Rivera's creative process as he developed his artworks.
>> View the documentary trailer.
More than 300 students, faculty members and guests attended the Sept. 5 showing at the UTSA 1604 Campus including Consul General Armando Ortiz Rocha of the Mexican Consulate and filmmakers Diego Lopez Rivera and Gabriel Figueroa Flores.
During the question-and-answer session with the filmmakers, UTSA President Ricardo Romo praised them for bringing more layers of understanding to the work of Diego Rivera, cinematographer Gabriel Figueroa and photographer Manuel Alvarez Bravo, whose works are featured prominently in the film.
"This is a really remarkable find," said Romo, of the vintage 1949 footage Lopez Rivera and Figueroa Flores used in the film. "I've seen these paintings and I have so much more appreciation for what (Rivera) was doing by seeing this portrayal. All of the sudden, it began to make sense to me, as to what he accomplished."
"It's amazing how they found this film and how they're sharing this with Mexico and San Antonio," said UTSA art specialist Arturo Almeida. "It's a privilege that we got to see this -- it was so personal to them. It takes a lot of work to do something like this and for them to share this with us is incredible."
Read more about the Diego Rivera documentary on UTSA Today.
For more information, visit the UTSA Mexico Center Web site or call (210) 458-2923.