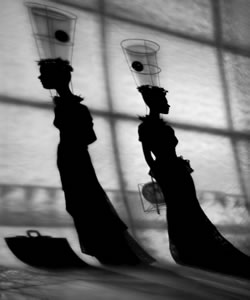 "Figure and Illusion" photography exhibit
Top: "Connected by Blood" by Susan kae Grant
Bottom: "Table Dress" by Kenda North
UTSA Satellite Space presents 'Figure and Illusion'
By Connie Swann
Graduate Student, Department of Art and Art History
(Sept. 15, 2008)--The UTSA Department of Art and Art History hosts the photography exhibit, "Figure and Illusion," through Sept. 21 with works by Susan kae Grant and Kenda North. Grant uses haunting black-and-white images to depict the dream state, while North's color photos demonstrate the tension of weightlessness and entrapment.
Free and open to the public, the exhibition is at the UTSA Satellite Space, Blue Star Arts Complex, Suite 115, at South Alamo and Probandt streets in the Southtown district.
---
Today's headlines
Article tools
---
Susan kae Grant is a professor and head of the photography department at Texas Woman's University. From the series, "Night Journey," Grant composes a series of intriguingly haunting large-scale images that recreate the fragmented and multi-sensorial experience of dreaming. The inspiration for the project came from the artist's desire to conduct an inquiry into the subconscious dream state, which led to her experiences as a subject in a sleep laboratory. To create the gestures and narratives inspired by the dream recordings, Grant photographs shadows of models and props in the studio.
Kenda North is a professor of art at UT Arlington. The large-scale images from her "Water and Weight" series serve as metaphors for emotional tensions and the daily struggle between liberation and constraint. Her figures move through a blue field of water, either celebrating a form of weightlessness or caught by a net and trapped.
------------------------------
UTSA Satellite Space hours are noon-6 p.m., Friday-Sunday, or by appointment. For more information or an appointment, call the gallery at (210) 212-7146 or contact Connie Swann, Department of Art and Art History, at (210) 458-4391.