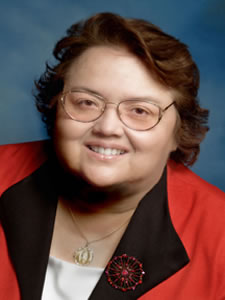 Belinda Flores
UTSA Spotlight: Professor Belinda Flores looks for new ways to prepare successful teachers
By Cindy Brockwell
Special Projects Writer
(Sept. 19, 2008)--Six years ago UTSA's Belinda Flores testified before a U.S. House committee in the nation's capitol on the effects of high-stakes testing and social promotion on Latino youth.
---
Today's headlines
Article tools
---
Not a fan of high-stakes testing, her testimony was in direct opposition to the testing demands of the No Child Left Behind initiative. "Those tests are not an accurate measure of a student's ability," she says. "They are a snapshot of a student's ability in one particular subject on one particular day."
A San Antonio native who grew up on the West Side, Flores may have returned home from the Washington hearing a bit frustrated. But her first meeting last July as the only Texan on a different national panel left her reinvigorated, renewed and resolved.
Flores, a professor of interdisciplinary learning and teaching in the College of Education and Human Development, was involved with another panel, but this time as a new member of the Hispanic Association of Colleges and Universities (HACU) panel, "Hispanic Higher Education Research Collective" (H3ERC). And, this time the participants were on the same page.
The panel will develop a research agenda to support Hispanic success in higher education and also look at ways to improve teacher preparation that will lead to greater success for Hispanic elementary and secondary school students. Flores was selected because of her expertise in teacher education and in-depth knowledge about the existing research in these fields.
Flores' passion for improving Hispanic student success is driven by her personal experiences as a bilingual child. She attended Holy Rosary Catholic school in the primary grades. "The Irish nuns were accepting of my Hispanic culture as well as my religion," she says.
"My transition to public schools in the ninth grade was a revelation," says Flores. "No longer in the protective cocoon of a church school, I noticed subtle differences in the ways teachers perceived Hispanic students," adding that teachers had different preconceptions and expectations of Hispanics. She graduated from Holmes High School.
Long before demographers were predicting the Hispanic population boom, Flores completed her B.A. in early childhood and elementary education with a specialization in bilingual education. She recognized that the Hispanic population in the United States -- not just in Texas -- would make a major impact on education from pre-K through college.
Flores first started teaching as a substitute in Crystal City elementary schools. "They had a bilingual program, and I saw that non-English speaking students in pre-K were bilingual by the third grade. The evidence is there... bilingual education works," she says.
"Pre-K Teacher of the Year" and "Bilingual Teacher of the Year" awards from 1987 are proudly displayed in her faculty office. She firmly believes that teachers can make a huge difference in a child's life. Flores also was an elementary school counselor for five years.
Flores found the perfect home for both her own education and her career at UTSA, well known for its contribution to the education of Hispanic students. Both her bachelor's and master's degrees were earned here at UTSA.
Her latest appointment to H3ERC promotes UTSA's strategic plan goal of having faculty who are recognized for intellectual achievements in their disciplines.
Congratulations to Professor Belinda Flores.