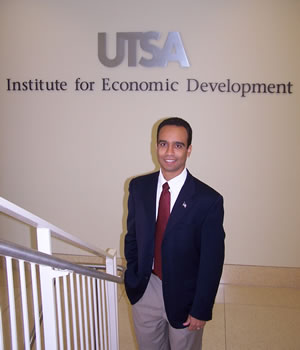 Dominique Halaby
IED welcomes business research center director
By Robert McKinley
Associate Vice President and Director, Institute for Economic Development
(Sept. 30, 2008)--Dominique Halaby recently joined the UTSA Institute for Economic Development as director of the Center for Community and Business Research. A new UTSA economic impact study will be one of his first assignments, along with ongoing Emerging Technology Fund (EDF) projects.
---
Today's headlines
Article tools
---
Halaby has a doctor of public administration degree, an M.B.A. and a B.A. degree in sociology. He is a member of the Southwestern Economics Association, the Association for Research on Nonprofit Organizations and Voluntary Action, and the American Society for Public Administration.
Halaby's recent experience was in building a nonprofit organization in the Rio Grande Valley dealing with workforce and economic development as executive director of the Valley Initiative for Development and Advancement (VIDA). In seven years leading the organization, annual funded project activity grew from $900,000 to $4 million with a variety of sponsors including federal grants, municipal 4a/4b funding, Texas Workforce Commission and area industry.
In the Valley, Halaby was successful in achieving broad collaboration among health care providers and educators to strengthen homegrown approaches to meet skilled workforce needs and implement several community planning and anti-poverty initiatives. The projects won awards as national finalists for best practices recognition in 2003 and 2006, and VIDA was selected One of the Best Places to Work 2006 by the Hidalgo Human Resources Society.
Last year, Halaby also served as interim director of the Valley Regional Center for Innovation and Commercialization (RCIC) during its organizational phase. RCIC has a role similar to the San Antonio Technology Accelerator Initiative (SATAI) of screening Texas ETF projects.