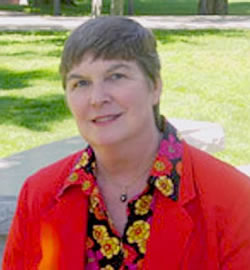 Barbara Millis
UTSA Spotlight: TEAM Center welcomes new director Barbara Millis
(Sept. 2, 2008)--Barbara Millis started Aug. 1 at UTSA as director of the Teaching, Excellence, Advancement and Mentoring (TEAM) Center. Before coming to UTSA, she was director of the Excellence in Teaching program at the University of Nevada, Reno (UNR).
"Coming to UTSA is a wonderful opportunity," said Millis. "I love working with creative faculty and staff to build new programs. I hope to reach out to faculty at all levels including non-tenure-track faculty and graduate students."
---
Today's headlines
Article tools
---
Millis earned a Ph.D. in English from Florida State University. She is a frequent presenter at conferences including the Lilly Teaching Conference, the American Association of Colleges and Universities (AACU), the Council of Independent Colleges (CIC) and the Teaching Professor Conference.
Her experience includes faculty development work, which she began in 1982. Millis served at the University of Maryland, University College (UMUC), the U.S. Air Force Academy (USAFA), before moving to UNR. She has taught numerous classes in English literature and composition including WebCT online classes for graduate students. At USAFA, she won both research and teaching awards.
Millis is the only person to have won more than once the teaching innovation award from the POD national faculty development network. She won the award three times for different ideas at three institutions where she served.
She has co-authored three books -- "Cooperative Learning for Higher Education Faculty" (1998), "Simulations in Higher Education" (2004) and "The Course Syllabus: A Centered Approach" (2008). She has published more than 40 articles in refereed journals on various aspects of teaching and learning including teaching portfolios, classroom observations, microteaching, academic games, syllabus construction and classroom assessment.
Each summer, Millis plans to take UTSA faculty to a weeklong teaching retreat in Leadville, Colo., "Boot Camp for Profs," where she is a featured presenter. She serves as a reviewer for College Teaching and the Journal of Excellence in College Teaching and is a consultant for the IDEA Center, Merlot, and the Teaching, Learning, Technology Group. She has given invited workshops at more than 300 hundred colleges and universities around the world including New Zealand, Spain and Qatar.
In August, Millis began at UTSA's TEAM Center helping the provost's office to organize two days of new faculty orientation. She presented a three-hour interactive session on course design and redesign, emphasizing interactive group work and conducted a group-oriented case study discussion, "Bill Jasper's First Day of Class."
The TEAM Center also offered this summer for the first time two days of teaching assistant (TA) training. The modules offered Aug. 23 were divided into two tracks to meet the needs of diverse TAs with Millis offering presentations in the humanities, social sciences and professional disciplines. She teamed with Keith Whittington, a tenured computer science professor from the Rochester Institute of Technology, to provide modules targeting TAs in the sciences, technology, engineering and mathematics -- the STEM disciplines.
"Making training relevant is critically important," Millis added. "The topics included active learning, grading and teaching labs or course and lesson planning."
The second day of TA training on Sept. 6 will feature a panel of experienced TAs who will provide advice and respond to questions -- and a unique microteaching opportunity allowing TAs to offer 10-minute presentations and then receive feedback from their peers in small groups and from a mentor TA, one of the new master teaching fellows.
"The Master Teaching Fellows program, funded by the provost's office, is a tremendous asset to the university as a whole," said Millis. The nine fellows, their chairs and invited guests will be honored at a Sept. 16 reception attended by John Frederick, UTSA provost and vice president for academic affairs, and David Johnson, UTSA vice provost for academic affairs and faculty support.
Nine specially selected graduate students will receive a certificate in college teaching after enhancing their professional skills under the tutelage of the TEAM Center, but they also will be available to mentor other TAs, particularly through confidential classroom observations, and to offer universitywide focus groups for course and program assessment.
According to Millis, the focus group model is unique because it combines the usual qualitative open-ended questions with quantitative measures focusing on strengths and weaknesses. The model has been adopted worldwide and featured at numerous assessment conferences. The focus groups and resulting detailed reports will be provided at no charge to all UTSA departments or units.
Other initiatives for the TEAM Center include a fall workshop series with two nationally recognized presenters, Linda Nilson, author of "Teaching at Its Best," from Clemson, and Bob Noyd, a USAFA botanist.
"I want to offer faculty and in some cases, TAs, the opportunity to receive funding to strengthen their teaching," added Millis. "So with UTSA partners, I hope to form committees to select recipients for grants in five areas -- Teaching Enhancement, The Scholarship of Teaching and Learning, Writing Across the Curriculum and Service Learning."
Faculty interest groups also will be supported by the TEAM Center. Two are already in the works -- a writing support group and a technology interest group -- will be supported by new interactive Web sites.
"I am very loyal to the institutions I serve," Millis said. "As a result, I try to bring recognition to them and to their faculty and staff." For example, as a result of Millis' application, USAFA was selected by the Association of American Colleges and Universities as one of 16 leadership institutions in undergraduate education.
"The pressure is on," said Millis. "Now I have to bring it home again for UTSA"