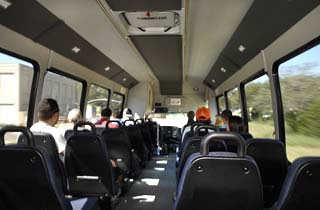 Top photo: UTSA shuttles at the Main Building on 1604 Campus
Bottom photo: Shuttle interior (Photos by Mark McClendon)
Transportation stress eases for UTSA students
By Omar Hernandez
Public Affairs Specialist
(Sept. 6, 2008)--The first week of class for the fall semester is here for more than 28,500 undergraduate and graduate students. Along with the excitement and enthusiasm that comes with each new beginning, students undoubtedly will experience some stress and anxiety, too. But this summer, the UTSA Office of Parking and Transportation Services has been working hard to ease some of the stress associated with getting to class on time. They are rolling out a new and improved campus transportation plan.
---
Today's headlines
Article tools
---
With new buildings now claiming the center of the 1604 Campus where parking spaces used to be, the parking folks have compensated by adding two new parking lots, four new shuttle buses, several new shuttle routes and extended an on-campus roadway that runs from UTSA Boulevard all the way out to Loop 1604. Including the spaces in the south parking garage that opened in April, UTSA students now will have more than 1,200 valuable new spaces for fall 2008.
Parking is a challenge at universities, but here at UTSA there also has been the added pressure of keeping up with rapid expansion of campus buildings and infrastructure. The growth brings more students and with more students comes more vehicles.
The first step -- create more parking spaces. Parking lot 12 used to accommodate 217 vehicles, now has 742 spaces and has been expanded from its original location past the multipurpose playing fields along Sam Barshop Boulevard. Parking lot 10 was expanded from 493 to 899 cars and the new parking lot 10A was created.
UTSA Parking and Transportation Services staff realized an increase in parking spaces also would cause a spike in traffic. Their answer was to open up the only on-campus road between Loop 1604 and UTSA Boulevard. Now Sam Barshop Boulevard runs from the north side of the campus to the roundabout near parking lot 10 and from there, the road becomes George Brackenridge Avenue to UTSA Boulevard.
As UTSA evolves from a commuter school to a more traditional campus, new buildings and amenities will take center stage. The parking office understands that adding parking spaces is only part of the solution. The UTSA shuttle system has been revamped to coincide with a new transportation plan.
"We used to have one shuttle run on north campus, and now we have two," said James Strahan, UTSA transportation manager. "Starting from the Main Building, one route will serve Chisholm and Chaparral then return to the Main Building. The other shuttle will service Margaret Tobin Avenue, Sam Barshop Boulevard, the new bus stop and back to the Main Building."
UTSA Parking and Transportation Services will help students who live off campus get to class. The existing north and southeast routes will continue service to the Chase Hill, Las Colinas, Alpin, Maverick Creek, Highlands, Broadstone Ranch and Hill Country Place apartment complexes.
A new off-campus southwest route will serve Blue Bonnet Hills, The Reserve and The Outpost complexes.
Parking and Transportation Services also added new buses to the existing fleet. Along with keeping a close eye on the budget, Strahan looks for ways to make UTSA more eco-friendly. He says the new buses will be more fuel-efficient and the modified routes will prevent any overlapping and unnecessary stops, saving on fuel costs along with wear and tear. Above all, students will have better service.
An added bonus for students is the parking garage that opened in April. Although the garage was intended for faculty and staff, students will be able to take advantage of the proximity and price.
"Sometimes I have one random class in the afternoon, and I just use the dollar parking," said Christopher Davis, a junior marketing major. "I don't have to look for parking; I just go to class, get out and then go home."
With UTSA expected to continue growing, parking on the perimeter of campus will be more of an everyday occurrence. Students are encouraged to arrive at campus a little earlier and take advantage of the shuttle bus service.
For a complete look at services, visit the UTSA Office of Parking and Transportation Services Web site or call (210) 458-PARK (7275).