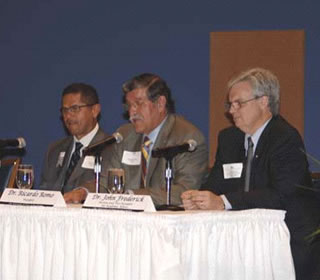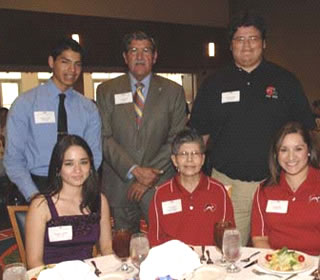 Top photo (from left): Robert Duron, Ricardo Romo and John Frederick
Bottom photo: Romo with SAISD students and representatives
(Photos by Mark McClendon)
UTSA, SAISD to collaborate on college prep goals
By Omar Hernandez
Public Affairs Specialist
(Sept. 19, 2008)--The UTSA Office of the President and the UTSA Office of the Vice President for Student Affairs recently hosted a luncheon with San Antonio ISD students and staff members to discuss the importance of higher education. The Sept. 11 event was at the University Center III ballroom on the 1604 Campus with students and staff from 10 SAISD high schools.
---
Today's headlines
Article tools
---
The event centered on the topics of building relationships, UTSA's goal to become a premier public research university, SAISD's mission to graduate all students and better prepare them for a next-level education, and how Texas can produce better educated students to be more competitive nationally and globally.
Attendees represented Navarro Academy, Jefferson, Early College, Edison, Highlands, Sam Houston, Lanier, Burbank, Fox Tech and Brackenridge high schools. Students from the participating schools were chosen based on leadership, grades and overall involvement.
A panel featuring Ricardo Romo (UTSA president), John Frederick (UTSA provost) and Robert Duron (SAISD superintendent) was moderated by Gage Paine, UTSA vice president for student affairs. The panelists shared their experiences and ideas on the importance of higher education.
"Obviously, getting students prepared to enroll in college and succeed in college is one of our top priorities," said Duron. "So, making that connection and that transition from their senior year in high school to their freshmen year in college is very important."
Both SAISD alumni, Romo and Frederick had the opportunity to talk with students over lunch. "UTSA looks forward to the opportunities for collaboration that will arise from this initial meeting," said Romo. "We know this will contribute to the goals and objectives of both UTSA and SAISD."