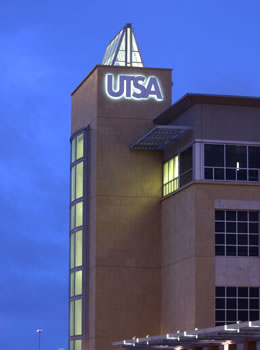 Durango Building, UTSA Downtown Campus
Provost hosts info sessions on UTSA strategic plan
By Tim Brownlee
Assistant Director of Public Affairs
(Sept. 18, 2008)--UTSA Provost John Frederick will begin this week a series of presentations on the implementation of UTSA's new strategic plan, A Shared Vision: UTSA 2016. Frederick will outline the plan and conduct a Q&A session at the "State of the UTSA Downtown Campus" event from 10 to 11 a.m. and from 2 to 3 p.m., Friday, Sept. 19 in the Buena Vista Street Building Meeting/Assembly Room (1.338) at the Downtown Campus. The information sessions are free and open to the public.
---
Today's headlines
Article tools
---
>> At the UTSA Strategic Plan Web site, download a schedule of UTSA 2016 Implementation Plan Information Sessions (PDF format); additional sessions may be added to the schedule. Also, view a draft of the UTSA 2016 Implementation Plan and download Provost John Frederick's PowerPoint presentation on the UTSA 2016 Implementation Plan.
"With UTSA 2016, we want everyone in the UTSA community to be engaged in implementing the strategic plan," said Frederick. "Often plans are put together and just end up on the shelf, but this will be a living document used to guide us on a new vision to become a national research university."
"The intention was to develop an ambitious agenda to take us through the next decade," said UTSA President Ricardo Romo. "We feel this document achieves that goal and will help us provide access to excellence in higher education in an increasingly competitive and global, knowledge-based economy."
UTSA 2016 was created in an 18-month process involving all UTSA constituencies and others committed to helping the university become a premier public research institution. The plan outlines the strategic focus for the next eight years and identifies areas in which the university will excel.
The process began in spring 2006 with retreats to determine the document's framework. Retreats were followed by team meetings, an online survey and a series of focus groups to solicit UTSA community input. In November 2007, at the dedication ceremony of the Biotechnology, Sciences and Engineering Building on the 1604 Campus, President Ricardo Romo unveiled UTSA 2016.
Team 2016, the plan implementation oversight group, began meeting in fall 2007. The group is comprised of the academic deans, representatives from administrative divisions of the university and student leadership, and is staffed and coordinated by Sandra Welch, vice provost for accountability and institutional effectiveness.
The team coordinated the alignment of all vice presidential and college strategic plans with the university plan; the VP and college plans were submitted in December 2007. Team task forces worked through the spring and early summer of 2008 to develop action items related to strategic initiatives, metrics to assess progress, parties to oversee the activities and deadlines for accomplishing the actions.