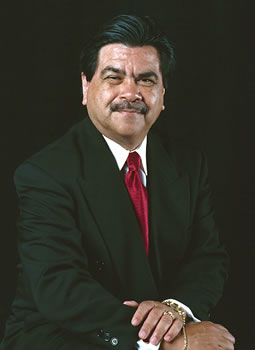 Jesse Zapata
Zapata to step down as UTSA public policy dean
By David Gabler
Associate Vice President for Communications and Marketing
(Sept. 12, 2008)--Jesse Zapata, inaugural dean of the UTSA College of Public Policy and vice provost for the Downtown Campus, will step down as dean, effective Oct. 15, to assume additional duties in his position as vice provost. In his expanded role, he will facilitate greater access to services provided by the Office of the Provost to students and faculty at the Downtown Campus.
---
Today's headlines
Article tools
---
As inaugural dean of the College of Public Policy since 2000, Zapata has helped to nearly double the college's enrollment to more than 1,100 students. The number of departments in the college has grown from two to four, and a doctoral program in applied demography was added in 2006. He also has overseen the accreditation of both the social work and public administration programs by their respective national accrediting bodies.
As the Downtown Campus' top administrator, Zapata has seen the campus grow to more than 6,000 students in just 10 short years, and during his tenure, the College of Architecture and the counseling program in the College of Education and Human Development now call the Downtown Campus home. In addition to his administrative duties, Zapata has been a tireless advocate for UTSA's presence in the city center and a visionary for the urban campus' future.
"I am extremely grateful for Dr. Zapata's hard work as the first dean of public policy," said Provost John H. Frederick. "He has done a fabulous job of building a strong foundation for the college that will serve it well in the years to come. I look forward to working even more closely with him in his vice provost role to implement the university's strategic plan and to strengthen further our academic programs at the Downtown Campus."
"I have thoroughly enjoyed my eight years as dean of the College of Public Policy," Zapata said. "The college has become a major public policy force in the community, state and nation. And, I look forward to devoting my time to an expanded role as vice provost for the UTSA Downtown Campus."
Before the end of the semester, Frederick will appoint a search committee and initiate a national search for a new dean of the College of Public Policy.