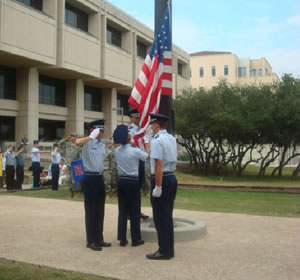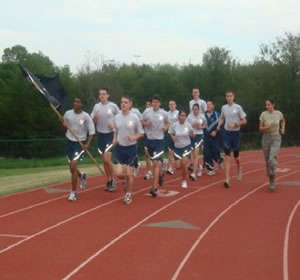 Air Force ROTC at UTSA:
Top photo: Field training ceremony
Middle photo: Flag ceremony
Bottom photo: POW-MIA run
UTSA Spotlight: Air Force ROTC provides effective leaders to serve our country
By Stefhanie Jimenez
Cadet and Public Affairs Officer, Air Force ROTC Detachment 842
(Oct. 31, 2008)--UTSA's Air Force ROTC Detachment 842 has had a significant impact on the lives of all who have participated in the program. Whether it is the invaluable military training, leadership and discipline education, or opportunities for substantial financial assistance in the pursuit of higher education, Det. 842 produces quality leaders ready to serve their country in the U.S. Air Force and, subsequently, in the civilian sector once their commitment is complete.
---
Today's headlines
Article tools
---
This fall, enrollment increased 17 percent over last year. UTSA President Ricardo Romo recently noted the record enrollment and recognized Det. 842 as the second largest Air Force ROTC unit in Texas, and the third largest its five-state southwest region.
Forty-two cadets returned to school this semester after successfully completing the summer Field Training program. Field Training is an integral piece of the leadership development curriculum, along with elective classes and labs the cadets take concurrently with their regular course load throughout the year. It consists of intense military preparation and readiness, coupled with extensive leadership exercises, which take place in a 27-day encampment in Alabama and Mississippi.
The training involves physical conditioning, weapons and survival training, and unarmed combatives which were recently implemented as part of the new expeditionary-focused curriculum. Seven cadets were spotlighted as award winners: three Distinguished Graduates (Cadet Sarah Godfrey -- Top Gun, Cadet Kayla Clement -- Top Gun, and Cadet Ryan Nichols), three Superior Performers (Cadet Lewis Boone, Cadet Christopher Cole and Cadet Micheal Gibb) and one Warrior Spirit (Cadet Steven Wright).
Det. 842 celebrated on Sept. 17 the Air Force's 61st birthday. They joined with Army ROTC for a flag ceremony, singing of "God Bless America" and culminated with the annual 24-hour POW-MIA Run at the Roadrunner track to pay tribute and honor former prisoners of war and those still missing in action.
For more information, contact Air Force ROTC at (210) 458-4624.