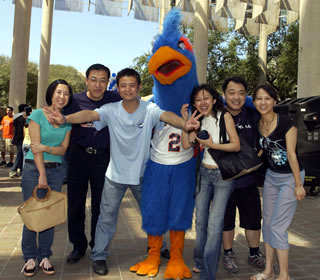 Mascot Rowdy Roadrunner and UTSA students
Unleash the fun at UTSA Family Weekend
By Omar Hernandez
Public Affairs Specialist
(Oct. 29, 2008)--UTSA Family Weekend is Oct. 31-Nov. 2. The goal is to have fun with friends and family, while showcasing the growth of UTSA and provide resources for parents to encourage their students' success. Among other events, the three-day event will include a soccer game outing, a "dive-in" movie at the Campus Recreation pool and Fright Fest at Fiesta Texas.
---
Today's headlines
Article tools
---
Family Weekend kicks off from 11 a.m. to 2 p.m., Friday, Oct. 31 with Best Fest at Sombrilla Plaza on the UTSA 1604 Campus. The event is one of the largest fundraisers for UTSA student organizations with music, food, drinks, contests and games.
Family Weekend also is an opportunity for parents to stay connected with their students' educational progress. Most families feel the separation anxiety when a child is away at college but none more than first-time freshmen and their parents.
"Even though your kid is probably doing great, as a parent you always want to be there," said Dolores Yanez of Houston, mother of a UTSA freshman. "Since that is not possible, it's good to be involved with the school to know what's going on."
Yanez and her husband attended orientation over the summer and enjoyed the experience so much they decided to join the UTSA Family Association, a program that provides communication between family members and the university. Yanez admits she struggled the first few weeks her son was away but found comfort in the resources offered by UTSA.
"I think what helped me the most was going to orientation," she said. "The information they provided has helped me stay connected and know where to go for answers."
Yanez and her husband have not seen their son since they helped him move into his dorm room at the end of the summer. Aside from visiting with their son, she said they are excited to see the other parents they met at orientation.
For more information, visit the UTSA Family Weekend Web site.