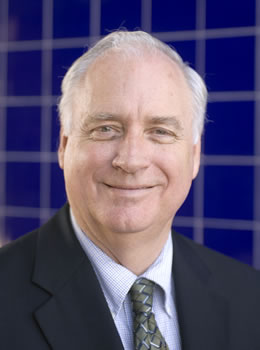 Dennis Haynes
(Photo by Patrick R. Dunn)
Interim dean named for College of Public Policy
By James M. Benavides
Public Affairs Specialist
(Oct. 9, 2008)--UTSA Provost and Vice President for Academic Affairs John Frederick has appointed Dennis Haynes interim dean of the College of Public Policy. The chair of the Department of Social Work, Haynes will fill the position as Jesse Zapata, the college's first dean, takes on additional duties as vice provost and chief academic administrator for the UTSA Downtown Campus.
---
Today's headlines
Article tools
---
Haynes holds a bachelor's degree in family relations from Brigham Young University, a master of social work degree from California State University and a Ph.D. from Florida State University. He joined the UTSA Department of Social Work in 2003 and chaired the accreditation process, earning accreditation for the program in 2008 from the Council on Social Work Education, the field's national accrediting body. The social work department has grown from 17 students in its first cohort in 2005 to 124 at present.
"I am delighted that Dennis Haynes has agreed to assume this leadership role for the College of Public Policy," said Frederick. "I look forward to working with him this year as he builds upon the solid foundation that Vice Provost Zapata has created. Dr. Haynes is a proven leader, consensus builder and communicator who will continue to move the college forward as we begin a national search for a new dean."
A professor of social work, Haynes is known for his expertise in child abuse and neglect prevention, children's mental health, religion and spirituality in social work, and university-community collaborations. He is a fluent Spanish speaker. As an administrator, he is co-chair of the UTSA Department Chair Council and a member of the UTSA Outreach Council. Haynes is president of the Texas Association of Social Work Deans and Directors and recently was selected as the National Association of Social Workers Texas Chapter Social Worker of the Year.
Zapata will step down Oct. 15 to facilitate greater access to services provided by the Office of the Provost to students and faculty at the Downtown Campus. Zapata has seen the campus grow to more than 6,000 students in 10 years. During his tenure, the College of Architecture and the counseling program in the College of Education and Human Development were established at the Downtown Campus. In addition to his administrative duties, Zapata has been a tireless advocate for UTSA's presence in the city center and a visionary for the urban campus' future.
A search committee will convene before the end of the fall semester to begin a nationwide search for the College of Public Policy dean.