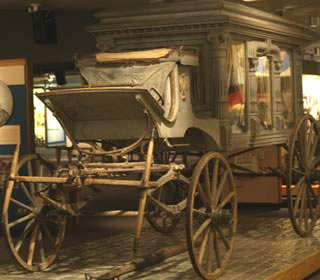 Institute of Texan Cultures' Castroville hearse
UTSA's ITC hosts paranormal investigation
By James M. Benavides
Public Affairs Specialist
(Oct. 29, 2008)--UTSA's Institute of Texan Cultures (ITC) will offer a unique opportunity to take part in a paranormal investigation on the museum premises from 7:30 to 11:30 p.m., Saturday, Nov. 8.
---
Today's headlines
Article tools
---
To ensure a quality experience for those participating, only 100 tickets are available. Accompanied by museum staff and members of the internationally recognized Everyday Paranormal investigation team, guests will be guided on an investigation through areas of the museum where purportedly there has been paranormal activity.
While ITC staff cannot confirm or deny the existence of the paranormal, museum staff members acknowledge that every culture that has come to Texas has a place in its folklore for the paranormal.
ITC is home to the horse-drawn Castroville hearse, a collection of Meso-American pottery, countless artifacts and a lingering smell of pipe tobacco thought to be from the museum's first director. The purported hauntings in the museum have been featured in numerous television productions including the History Channel.
Tickets for the Nov. 8 investigation are $35. For reservations, call (210) 458-2259. For more information including recommended equipment and museum rules, visit the Institute of Texan Cultures Web site.
-----------------------------------------
>> Read more about the ITC hauntings in UTSA's Sombrilla magazine.