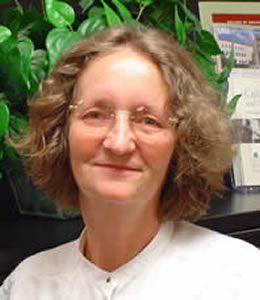 Elizabeth Pate
UTSA Profile: Professor Elizabeth Pate struggled through life's circumstances and achieved success
By Cindy Brockwell
Special Projects Writer
(Oct. 31, 2008)--Elizabeth Pate is professor and chair the UTSA Department of Interdisciplinary Learning and Teaching in the College of Education and Human Development. In 2006, she won both the President's Distinguished Achievement Award for Teaching Excellence and the Chancellor's Council Outstanding Teaching Award.
---
Today's headlines
Article tools
---
With that introduction, you might think Pate was always a brain -- born to do great things, born to be a leader. Well, not so fast, she would caution. Her road to a Ph.D. included attendance at five colleges before she got her undergraduate degree, financial aid, a marriage, a divorce, single motherhood, subsidized housing and food stamps.
"Early on, I wasn't the best student," said Pate. "I couldn't write well, I couldn't organize my thoughts and people told me to forget about college."
Maybe that's why she relates so closely to UTSA students who have had to overcome some of the same obstacles Pate did. They are students Pate calls "the heart and soul of this university."
This is Pate's fifth year at UTSA after a 15-year career at the University of Georgia.
"After a summer as an adjunct professor here, I fell in love with the students and with UTSA," she explained. "I came because of the students... the opportunity to participate in UTSA's growth... and the opportunity to contribute to UTSA and San Antonio. And, Texas has always tugged at my heart."
Pate grew up in an Air Force family that moved frequently. When her father retired, they came to Texas, where she finished the last two years of high school in Kerrville. Her first attempt at college was a semester at Schreiner College in Kerrville. She was in the first class that admitted women.
From Schreiner, she moved on to San Antonio College and then to A&I College, Kingsville. "I may have spent a little too much time at the beach. I wasn't the best student there," she explained, thus the scholastic probation. Then there was a California phase where she married, had two children and divorced before returning to Texas.
"Finally, I got my act together and learned a student work ethic," she said. Pate earned her bachelor's in elementary education and art at Angelo State University, San Angelo, completing two years in one. Her master's in reading specialist at Angelo State came a year later, and she earned a doctoral degree from Texas A&M.
When people told her she couldn't do it, she proved them wrong. She learned to persevere. "Now I have a Ph.D. and I'm doing quite well," she said. "That's why I'm so comfortable with the students at UTSA. So many of them are on financial aid, working, single parents... just struggling with life's circumstance. Our students bring a wealth of experiences, knowledge and intellect that we have yet to tap into."
Among her passions is teaching middle-school students. Her latest book will go to the publisher soon. Described by Pate as being about effective learning strategies for kids by kids, she drew from the experiences in an eighth grade class she taught. Her students are the chapter authors.
For Pate, UTSA has become a family affair. Her daughter and sister received their degrees from UTSA and now are teaching. Her son is will enroll in the College of Business in January.
---------------------------------
Elizabeth Pate favorites
Movie: "The Wizard of Oz"
Music: Americana music, anything from Willie Nelson to Cross-Canadian Ragweed