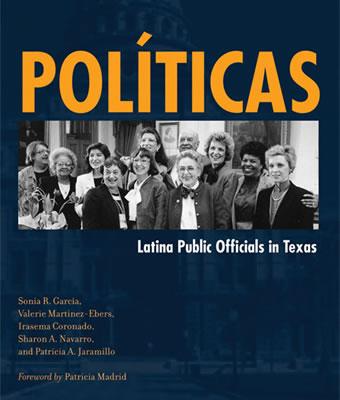 UTSA authors to speak at Texas Book Festival
By Tim Brownlee
Assistant Director of Public Affairs
(Oct. 28, 2008)--UTSA assistant professors Sharon A. Navarro and Patricia Jaramillo will participate in a panel discussion on the book they co-authored at the Texas Book Festival from 11 a.m. to noon, Saturday, Nov. 1. The festival is conducted in and around the State Capitol in Austin. The UTSA professors co-authored with three other political scientists, "Politicas: Latina Public Officials in Texas," which showcases Latina trailblazers who were the first to hold key elected and appointed positions in Texas government.
---
Today's headlines
Article tools
---
The Texas Book Festival is a free two-day event featuring more than 190 of the nation's most accomplished authors with recently published works. Panels and readings at the festival represent every spectrum of literature.
"'Politicas' is a revealing book about the personal and professional lives of pioneering Latinas who have overcome obstacles to achieve success in Texas public office," said Texas Book Festival executive director Heidi Marquez Smith. "By sharing their stories, these Latinas serve as examples and an inspiration to our next generation."
The additional co-authors of the book are Irasema Coronado, Sonia R. Garcia and Valerie Martinez-Ebers. The authors will sign books after the panel discussion. Public officials featured in the book include Judge Mary Roman, former Houston City Councilwoman Graciela Saenz, Texas Sen. Leticia Van de Putte and former Laredo Mayor Betty Flores.
The Texas Book Festival celebrates authors and their contributions to the culture of literacy, ideas and imagination. Founded in 1995 by Laura Bush and a group of interested volunteers, TBF has brought together more than 2,000 authors and more than half a million people from Texas and across the nation. Festival proceeds have funded book collections and literacy and technology programs in public libraries throughout the state and allow the festival to be free to the public. Its year-round programs cultivate an interest in reading by bringing authors and their books to economically disadvantaged students. AT&T is the festival underwriter.
------------------------------
About the UTSA authors
A UTSA assistant professor of political science, Sharon A. Navarro earned a Ph.D. from the University of Wisconsin at Madison. She is the author of "Latina Legislator" (Texas A&M Press), co-author of "Politicas" (University of Texas Press), co-editor of "Latin American Political Participation" (ABC-CLIO Press) and a number of journal articles. She is currently working on a co-edited volume with Rodolfo Rosales, "Latino Urban Agency," and her second single authored book, "Latinas Rising: Latinas in the Texas Judiciary." Her research interests are Latina/o politics, urban and ethnic politics, and women in politics.
Patricia Jaramillo is a UTSA assistant professor of political science. She received a Ph.D. in political science at University of Colorado at Boulder with fields of specialization in American politics, political methodology and public policy. Her dissertation was titled "Examining Preferences and Mobilization in Activist Participation." She earned an M.P.Aff. degree at the Lyndon Baines Johnson School of Public Affairs, University of Texas at Austin. She is co-author of "Politicas: Latina Public Officials in Texas" (University of Texas Press) and co-author of "Primaries" (International Encyclopedia of the Social Sciences).