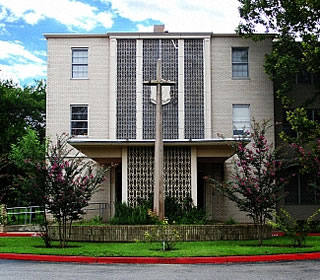 SAMMinistries
SECC agency turns life around for UTSA alumna
By Lynn Gosnell
Special Projects Writer
(Oct. 23, 2008)--She was a single mom who had walked out on an alcoholic husband. She was running out of money for the one-bedroom apartment she shared with two toddlers. She had no family to turn to for support, and she was frightened. That's when Annie Alaniz Reeves, '03, discovered SAMMinistries.
---
Today's headlines
Article tools
---
"I was praying with a minister at my church, and he suggested I call SAMM," Reeves said. At first appalled by the idea of moving into a homeless shelter, Reeves had to swallow her fear, her stereotypes and her pride to make the phone call.
"That's when all my stereotypes about being homeless fell apart," said Reeves.
Within a short time, SAMMinistries had placed the struggling family in one of their transitional housing units. With highly subsidized rent and utilities, Reeves was able to plan for the future.
In 2001, while still a client of SAMMinistries, she began attending classes at UTSA. To her classmates and professors, Reeves appeared to be a typical UTSA student, juggling family demands and homework.
"No one knew," she said. "Today, everywhere, there are people around us that are homeless or in trouble... and people don't have any idea."
In December 2003, Reeves finally earned the college degree that had eluded her since, as she put it, "life happened." In fact a cascade of tragedies -- including her mother's illness and eventual death from cancer followed by her father's death in a drowning accident -- contributed greatly to her financial vulnerability.
Reeves remarried in 2003 and went on to earn a law degree from St. Mary's University University in 2007. She and her husband, also an attorney, added a new baby to the family in 2005. But instead of pursuing a career in criminal law as Reeves had planned, she received a call from SAMMinistries. This time, they needed her.
"I could find no better way to close the circle than to come work for the ministry that had made my life possible," said Reeves. "I get to educate and communicate with the community, breaking stereotypes of the homeless. On the other side, I get to speak with people who are homeless and let them know that with hard work and perseverance, they to can stabilize their lives," she added.
What would she tell UTSA students or anyone in danger of becoming homeless?
"There's always a place to turn."
SAMMinistries offers "hope for the homeless through emergency and transitional shelter and services" and is one of the many agencies supported by the State Employee Charitable Campaign. The agency serves approximately 5,000 people in the downtown emergency shelter, the Transitional Living and Learning Center on Blanco Road, and in 25 homes located throughout the city.
------------------------------
The State Employee Charitable Campaign code for SAMMinistries is 415099.
If you have not made an SECC donation, it's not too late. The campaign runs through Oct. 31. Make your donation online, or turn in your donation form to your Area Delegate or send it to the Office of the President.
>> Want to donate online to SECC? Here's how...