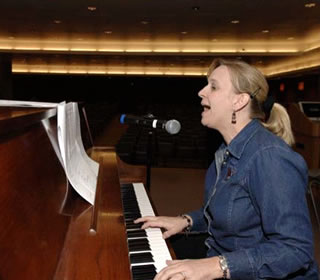 Lisa Blazer, assistant vice president for financial aid,
rehearses at "UTSA's Got Talent 2007"
UTSA's Got Talent: Eight acts you don't want to miss
By Lynn Gosnell
Special Projects Writer
(Oct. 21, 2008)--Proof of donation to the State Employee Charitable Campaign (SECC) is your ticket to attend the second annual talent show, "UTSA's Got Talent," from 2 to 4 p.m., this Friday, Oct. 24 in two locations -- the Richard Liu Auditorium (Business Building, 1604 Campus) and the Buena Vista Theater (Downtown Campus). There also will be a broadcast sent to the Institute of Texan Cultures for staff who cannot travel to the Downtown or 1604 campuses.
---
Today's headlines
Article tools
---
This year's show features a variety of performances that will give you a new appreciation of the hidden talents of UTSA's staff and faculty.
Remember that moment in "The Sound of Music" when Captain Von Trapp interrupts Maria's dance lesson with young Kurt? The two then continue to dance the laendler, a popular Austrian folk dance. Watch Marion Perry dance the laendler with a fellow member of Der Deutsche Volkstanzverein von San Antonio, a folk dance group Perry helped create 20 years ago.
Folkloric dance from Mexico will be on display when Gina Mendez and Daniel Escobar dance "La Bamba." This is Escobar's first-ever dance performance. Mendez, a professional dancer until she retired from dancing at age 30, and four cohorts also will perform a folkloric dance called "La Bruja."
"I selected 'La Bruja' for this performance because it is a famous popular Mexican folk dance from the state of Veracruz. It is fairly easy to perform except for the glass of real water that rests on the top of your head," Mendez says.
Vice President for Student Affairs Gage Paine presents the high energy Lindy Hop. "I call it dancing without a star because my partner, Ruben Diaz, is a professional dance instructor, but he couldn't find a star to dance with," jokes Paine. She's been taking dance lessons for about five years.
Singing takes center stage in many acts. Cinnamon Warner will sing the hit contemporary Christian tune called "Redeemer." Warner grew up as a part of the Warner Gospel Singers and she still sings praise music around the city and for special occasions. Award-winning singer Nicole Mullen is one of her idols.
Chris Robinson brings a song he wrote for his girlfriend to the stage. The title, "Inspire," is part of Robinson's third CD collection, which he describes as "alternative rock." Robinson counts Incubus, Tool and Steve Wonder among his influences.
If Chuck Berry had been from Hawaii, the ukelele might be a rock-and-roll instrument. Not to be missed is Kai Kamaka's version of Berry's classic tune, "Johnny B. Goode," accompanying himself on the ukelele. "This routine was inspired some 12 years ago in Hawaii while I was a part of a program that motivated students to study and live a healthy life," Kamaka says.
Another classic tune will get a workout by a team from UTSA's Child Development Center. The song and dance team of four, lead by Cindy Lira, will perform "Can't Hurry Love" by the Supremes. Lira's daughter choreographed the song. "We sing and dance everyday with our children in the classroom, and now we are going to perform for adults and are looking forward to it," she said.
"My job, my job, my job. Talkin' 'bout my job!" Did you sing this to the tune of "My Girl?" You will on Friday as the Career Services team, lead by Yvonne Jones, returns by popular demand to offer some solid advice to students to "go see Career Services, baby, and don't be late."
There's more, but you'll have to see it Friday. Donate to the SECC and enjoy the show.
--------------------------------
SECC runs through Oct. 31. To give back to our community, employees can donate using the paper form or go online to the eWay Web site.
>> Download the donation form.