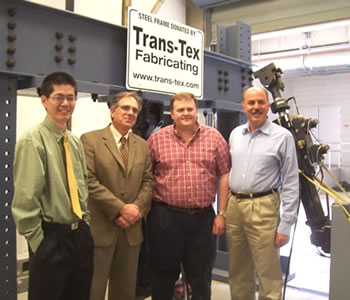 From left are Mijia Yang, UTSA assistant professor of civil and environmental
engineering; A.T. Papagiannakis, professor and chair of civil and environmental
engineering; John C. Schuepbach, Trans-Tex Fabricating president; and
Stathis Michaelides, professor and chair of mechanical engineering.
Manufacturer gives testing equipment to UTSA College of Engineering
By Kris Rodriguez
Public Affairs Specialist
(Oct. 6, 2008)--The UTSA Department of Civil and Environmental Engineering welcomed representatives from Trans-Tex Fabricating Co. to the 1604 Campus for a demonstration of the new MTS loading frame that Trans-Tex helped bring to UTSA.
---
Today's headlines
Article tools
---
TThe large-scale steel testing frame will be used in all aspects of structural testing and will assist in both teaching and research. The equipment can be used to demonstrate compression, tension, shear and bending behaviors of structural components.
"I think this allows us to give back to the community," said John Schuepbach, president of Trans-Tex Fabricating. "It's a unique structure that not many universities have, so these students will be exposed to structural testing in real-world applications in addition to the theories they are learning in books."
The donation will help improve the skill sets of about 100 civil engineering students taking classes involving steel structures, concrete structures and material of solids.
"We now have a large-scale loading frame that will allow us to have the full capability of a typical structure laboratory," said Mijia Yang, assistant professor of civil and environmental engineering. "These are the same components that you would find at schools like UT Austin, Texas A&M and Georgia Tech."